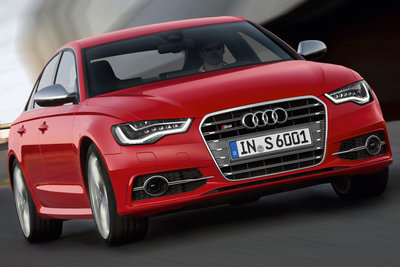 At a Glance
| | |
| --- | --- |
| Pricing | $42,200 - $71,900 |
| Drive Types | FWD, AWD |
| Engines | 2.0l I4 T, 3.0l V6 S, 4.0l V8 T |
| Transmissions | A8, CVT, SM7 |
| Fuel Economy | 17-25 (city), 27-33 (highway) |
Our Ratings
Overview Information
Like other German luxury automakers, Audi markets a range of sedans in varying sizes. The latest A6 sedan splits the difference between the smaller A4 and larger A8 sedans. While the A6 is competitive in size with the BMW 5-Series and Mercedes-Benz E-Class, it offers slightly less interior room than mainstream mid-sized sedans like the Toyota Camry or Honda Accord. For a luxury sedan, the A6 represents a healthy blend of size, luxury, and performance. Like most Audi models, the A6 is offered in Premium, Premium Plus, and Prestige trim levels. The base Premium model is well equipped, with the higher trim levels adding features like HID headlamps, four-zone climate control, and larger wheels/tires.
What Changed:
The S6 rejoins the updated A6 lineup. Power is provided by a twin-turbo 4.0l V8 producing 420-bhp and 406 lb-ft. of torque. Audi's quattro AWD is now available with the 2.0T engine.
Official Word:
The all-new Audi S6 sedan brings exhilarating performance, intelligent efficiency technologies and exclusive "S" design cues in a vehicle that builds upon the already excellent package delivered by its cousin, the Audi A6, which was introduced in summer 2011. The S6 is equipped with the new twin-turbo 4.0 TFSI(R) engine that delivers 420 horsepower and an impressive 406 lb-ft of torque from 1,400 to 5,300 rpm. It accelerates from 0 to 62 mph in 4.8 seconds...Read.
| Model/Trim/Package | Engine | | | MPG | VjI | Base Price |
| --- | --- | --- | --- | --- | --- | --- |
| A6 Sedan 2.0T Premium | 2.0l I4 T (211-bhp) | CVT | FWD | 25/33/29 | 58 | $42,200 |
| A6 Sedan 2.0T Premium | 2.0l I4 T (211-bhp) | A8 | AWD | 20/30/24 | 60 | $44,400 |
| A6 Sedan 2.0T Premium Plus | 2.0l I4 T (211-bhp) | CVT | FWD | 25/33/29 | 61 | $46,500 |
| A6 Sedan 2.0T Premium Plus | 2.0l I4 T (211-bhp) | A8 | AWD | 20/30/24 | 63 | $48,700 |
| A6 Sedan 3.0T Premium | 3.0l V6 S (310-bhp) | A8 | AWD | 18/27/22 | 66 | $50,400 |
| A6 Sedan 3.0T Premium Plus | 3.0l V6 S (310-bhp) | A8 | AWD | 18/27/22 | 69 | $54,700 |
| A6 Sedan 3.0T Prestige | 3.0l V6 S (310-bhp) | A8 | AWD | 18/27/22 | 69 | $56,950 |
| A6 Sedan S6 | 4.0l V8 T (420-bhp) | SM7 | AWD | 17/27/22 | 68 | $71,900 |
Comparisons
Reviews
Videos
Model History