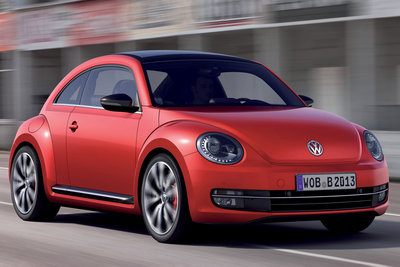 At a Glance
| | |
| --- | --- |
| Pricing | $18,995 - $30,095 |
| Drive Types | FWD |
| Engines | 2.0l I4 T, 2.5l I5 |
| Transmissions | A6, M5, M6, SM6 |
| Fuel Economy | 21-22 (city), 29-31 (highway) |
Our Ratings
Overview Information
It's hard to approach the status of the Beetle. Only a couple of cars on the road have similar lifetime sales numbers and few have the instantly recognizable shape of the Beetle. Introduced in 2012, the third generation is longer, wider and has an overall more aggressive look. Modern Beetles are front wheel drive with the engine in front. A large hatchback and fold-down rear seat fill the space where the engine used to be. Beetle powertrains include an inline five-cylinder engine and a turbocharged four cylinder. The turbocharged Beetle with 200-horsepower and a six-speed dual clutch transmission should be quick enough to turn some heads. In today's market, Scion, Hyundai, and Kia provide the kind of value that the original Beetle was known for, but a unique combination of heritage, style, utility, and fuel economy should help keep the Beetle on some shopping lists.
What Changed:
After a short hiatus the Beetle returned for the 2012 model year. Compared to its predecessor, the Beetle grew by some 7 inches in length, 1 inch in wheelbase and almost 4 inches in width. A range of engines will be offered worldwide.
Official Word:
Volkswagen of America, Inc. today announced pricing for the 21st Century Beetle, the third generation of the classic people's car. The new Beetle will start at just $18,995, offering an agile, driver-oriented coupe that respects the Beetle's past yet looks to the future. The 21st Century Beetle is an automotive icon reinvented, a nod to the heritage and character of Volkswagen and our remarkable history, said Jonathan Browning, President and CEO, Volkswagen Group of America, Inc....Read.
| Model/Trim/Package | Engine | | | MPG | VjI | Base Price |
| --- | --- | --- | --- | --- | --- | --- |
| Beetle | 2.5l I5 (170-bhp) | M5 | FWD | 22/31/26 | 54 | $18,995 |
| Beetle 2.5 | 2.5l I5 (170-bhp) | M5 | FWD | 22/31/26 | 54 | $19,795 |
| Beetle 2.5 | 2.5l I5 (170-bhp) | A6 | FWD | 22/29/25 | 54 | $20,895 |
| Beetle 2.5 Sunroof | 2.5l I5 (170-bhp) | M5 | FWD | 22/31/26 | 54 | $22,295 |
| Beetle 2.5 Sunroof | 2.5l I5 (170-bhp) | A6 | FWD | 22/29/25 | 54 | $23,395 |
| Beetle 2.5 Sunroof, Sound, & Navi | 2.5l I5 (170-bhp) | M5 | FWD | 22/31/26 | 57 | $24,095 |
| Beetle 2.5 Sunroof, Sound, & Navi | 2.5l I5 (170-bhp) | A6 | FWD | 22/29/25 | 57 | $25,195 |
| Beetle Turbo | 2.0l I4 T (200-bhp) | M6 | FWD | 21/30/25 | 61 | $23,395 |
| Beetle Turbo | 2.0l I4 T (200-bhp) | SM6 | FWD | 22/30/26 | 61 | $24,495 |
| Beetle Turbo Sunroof & Sound | 2.0l I4 T (200-bhp) | M6 | FWD | 21/30/25 | 61 | $26,395 |
| Beetle Turbo Sunroof & Sound | 2.0l I4 T (200-bhp) | SM6 | FWD | 22/30/26 | 61 | $27,495 |
| Beetle Turbo Sunroof, Sound, & Navi | 2.0l I4 T (200-bhp) | M6 | FWD | 21/30/25 | 61 | $28,995 |
| Beetle Turbo Sunroof, Sound, & Navi | 2.0l I4 T (200-bhp) | SM6 | FWD | 22/30/26 | 61 | $30,095 |
Comparisons
Reviews
Model History