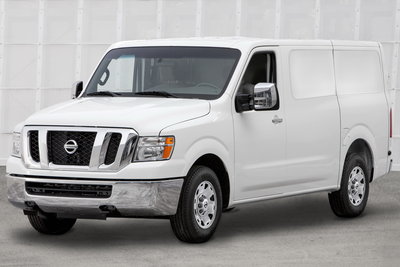 At a Glance
| | |
| --- | --- |
| Pricing | $24,950 - $31,100 |
| Drive Types | RWD |
| Engines | 4.0l V6, 5.6l V8 |
| Transmissions | A5 |
Our Ratings
Overview Information
Nissan has expanded their capable truck platform in to a closed box van line. The NV 1500/2500/3500 series vans are offered in one wheelbase length with either a conventional low roof or optional high-roof. Power is provided by either a 4.0l V6 or 5.6l V8 depending on the model. Although the NV has a slightly longer front end than traditional van designs, the cargo box has a floor large enough to haul 4x8 sheets of plywood. The NV can also tow up to 9500 lbs.
What Changed:
The NV is a new van line from Nissan based on Nissans full-size truck chassis. The NV is offered with V6 and V8 engines.
Official Word:
As Nissan finalizes plans to bring its first production commercial vehicle (CV) to the United States market in spring 2011, it is starting with a truly ground up design - from its rugged ladder frame to the roof rack mounting brackets on the top of the innovatively conceived and styled body. Yet the all-new Nissan NV (Nissan Van) also has the advantage of Nissan's exceptional commercial vehicle heritage, covering 75 years and more than 75 percent...Read.
| Model/Trim/Package | Engine | | | MPG | VjI | Base Price |
| --- | --- | --- | --- | --- | --- | --- |
| NV 1500 S | 4.0l V6 (261-bhp) | A5 | RWD | | 31 | $24,950 |
| NV 2500 S | 4.0l V6 (261-bhp) | A5 | RWD | | 31 | $25,950 |
| NV 2500 S | 5.6l V8 (317-bhp) | A5 | RWD | | 35 | $26,850 |
| NV 2500 High Roof S | 4.0l V6 (261-bhp) | A5 | RWD | | 29 | $28,500 |
| NV 2500 High Roof S | 5.6l V8 (317-bhp) | A5 | RWD | | 35 | $29,400 |
| NV 3500 S | 5.6l V8 (317-bhp) | A5 | RWD | | 33 | $28,550 |
| NV 3500 High Roof S | 5.6l V8 (317-bhp) | A5 | RWD | | 33 | $31,100 |
Comparisons
Reviews
Videos
Model History