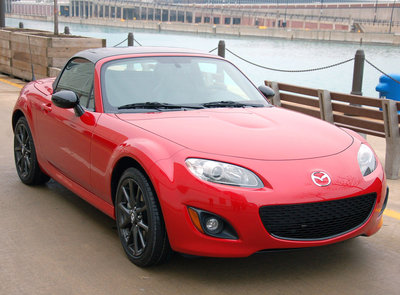 At a Glance
| | |
| --- | --- |
| Pricing | $24,630 - $31,440 |
| Drive Types | RWD |
| Engines | 2.0l I4 |
| Transmissions | A6, M5, M6 |
| Fuel Economy | 21-22 (city), 28 (highway) |
Our Ratings
Overview Information
The MX-5 (Miata) is a small 2-passenger roadster. Introduced in 1989, Mazda's small roadster has retained its hallmark driving characteristics through three generations. The MX-5 places a small displacement four-cylinder engine behind the front axle for balance. This engine makes up to 167-bhp (manual transmission) and powers the rear wheels. The MX-5 will seat two full-size occupants. Buyers now have a choice of convertible tops; both a marvel of simplicity. The standard manually operated cloth top can be stowed and deployed with just one hand. For year round enjoyment, Mazda engineers devised an optional power-operated hardtop that imposes almost no weight or storage penalties. Several trim levels and packages are offered extending the appeal from track-day drivers to more style conscious drivers.
What Changed:
Stability Control is now standard on all models. The MX-5 Special Edition is a run of 450 models with a black retractable hard top.
Official Word:
For more than 20 years, the MX-5 Miata has offered sports car enthusiasts a pure, uncomplicated and fun-focused roadster at an attainable price. Sticking to that simple concept has made the MX-5 the most popular two-seat convertible sports car in the world with more than 900,000 units produced, qualifying it as a Guinness World Record holder. Making its global debut in 1989, the MX-5 has since received several facelifts, seen many limited and special edition versions,...Read.
| Model/Trim/Package | Engine | | | MPG | VjI | Base Price |
| --- | --- | --- | --- | --- | --- | --- |
| MX-5 Sport Convenience | 2.0l I4 (167-bhp) | M5 | RWD | 22/28/25 | 69 | $24,630 |
| MX-5 Sport Convenience | 2.0l I4 (158-bhp) | A6 | RWD | 21/28/24 | 69 | $25,730 |
| MX-5 Touring Suspension | 2.0l I4 (167-bhp) | M6 | RWD | 21/28/24 | 73 | $26,480 |
| MX-5 Touring | 2.0l I4 (158-bhp) | A6 | RWD | 21/28/24 | 69 | $26,930 |
| MX-5 Grand Touring Premium, Suspension | 2.0l I4 (167-bhp) | M6 | RWD | 21/28/24 | 73 | $29,140 |
| MX-5 Grand Touring Premium | 2.0l I4 (158-bhp) | A6 | RWD | 21/28/24 | 69 | $29,590 |
| MX-5 PRHT Touring Suspension | 2.0l I4 (167-bhp) | M6 | RWD | 21/28/24 | 73 | $28,190 |
| MX-5 PRHT Touring | 2.0l I4 (158-bhp) | A6 | RWD | 21/28/24 | 69 | $28,640 |
| MX-5 PRHT Grand Touring | 2.0l I4 (167-bhp) | M6 | RWD | 21/28/24 | 69 | $28,950 |
| MX-5 PRHT Grand Touring | 2.0l I4 (158-bhp) | A6 | RWD | 21/28/24 | 69 | $30,050 |
| MX-5 PRHT Grand Touring Premium, Suspension | 2.0l I4 (167-bhp) | M6 | RWD | 21/28/24 | 73 | $30,990 |
| MX-5 PRHT Grand Touring Premium | 2.0l I4 (158-bhp) | A6 | RWD | 21/28/24 | 69 | $31,440 |
Comparisons
Videos
Model History