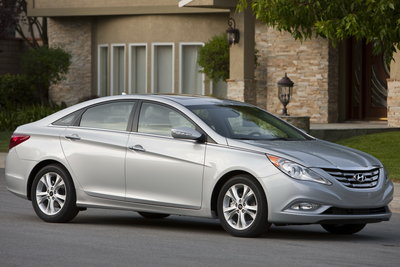 At a Glance
| | |
| --- | --- |
| Pricing | $19,795 - $31,350 |
| Drive Types | FWD |
| Engines | 2.0l I4 T, 2.4l I4, 2.4l I4 HEV |
| Transmissions | A6, M6 |
| Fuel Economy | 22-34 (city), 34-39 (highway) |
Our Ratings
Overview Information
The Hyundai Sonata has become an increasingly popular mid-sized sedan. Quality awards and long warranties have added to the traditionally strong price value that Hyundai offered. Like the Accord and Camry, Hyundai manufacturers the Sonata in America. This roomy FWD sedan is powered by four-cylinder engine mated to a six speed automatic. While other vehicles in the segment offer six-cylinder engines, the Sonata's four cylinder is more powerful than those found in other models while posting an impressive fuel economy rating of 23/35 (city/hwy). The Sonata is offered in three grades: GLS, SE and Limited each with a healthy list of standard equipment. If performance is the goal, the Sonata is available with an optional 2.0l turbocharged four-cylinder engine rated at 274-bhp. Introduced in 2011, the Sonata hybrid model pairs a 2.4l four-cylinder engine with an electric motor to achieve a fuel economy ratings of 34/39 ( city / highway ).
What Changed:
Slight increase in fuel economy.
Official Word:
The Sonata 2.0T debuts with Hyundai's first four-cylinder turbocharged gasoline direct-injection engine With a best-in-class 34 mpg highway fuel economy rating, the 2.0-liter turbocharged gasoline direct-injection engine also delivers a best-in-class 274 horsepower and 269 lb-ft of torque across a broad rpm range - 1,800 rpm - 4,500 rpm - giving the Sonata 2.0T four-cylinder more power than many V6 engines, all on regular fuel The new 2.0-liter turbocharged gasoline direct-injection engine is part of Hyundai's...Read.
| Model/Trim/Package | Engine | | | MPG | VjI | Base Price |
| --- | --- | --- | --- | --- | --- | --- |
| Sonata GLS | 2.4l I4 (198-bhp) | M6 | FWD | 24/35/29 | 57 | $19,795 |
| Sonata GLS | 2.4l I4 (198-bhp) | A6 | FWD | 24/35/29 | 57 | $20,795 |
| Sonata GLS Popular | 2.4l I4 (198-bhp) | A6 | FWD | 24/35/29 | 57 | $21,545 |
| Sonata SE | 2.4l I4 (200-bhp) | A6 | FWD | 24/35/29 | 63 | $23,195 |
| Sonata SE Sunroof+Navigation | 2.4l I4 (200-bhp) | A6 | FWD | 24/35/29 | 63 | $26,095 |
| Sonata Limited | 2.4l I4 (198-bhp) | A6 | FWD | 24/35/29 | 60 | $26,445 |
| Sonata Limited Navigation | 2.4l I4 (198-bhp) | A6 | FWD | 24/35/29 | 60 | $28,645 |
| Sonata SE 2.0T | 2.0l I4 T (274-bhp) | A6 | FWD | 22/34/27 | 69 | $24,745 |
| Sonata SE 2.0T Sunroof + Navigation | 2.0l I4 T (274-bhp) | A6 | FWD | 22/34/27 | 69 | $27,645 |
| Sonata Limited 2.0T | 2.0l I4 T (274-bhp) | A6 | FWD | 22/34/27 | 65 | $28,195 |
| Sonata Limited 2.0T Navigation | 2.0l I4 T (274-bhp) | A6 | FWD | 22/34/27 | 65 | $30,395 |
| Sonata Hybrid | 2.4l I4 HEV (206-bhp) | A6 | FWD | 34/39/36 | 51 | $25,850 |
| Sonata Hybrid Leather | 2.4l I4 HEV (206-bhp) | A6 | FWD | 34/39/36 | 52 | $27,350 |
| Sonata Hybrid Ultimate | 2.4l I4 HEV (206-bhp) | A6 | FWD | 34/39/36 | 52 | $31,350 |
Comparisons
Videos
Model History