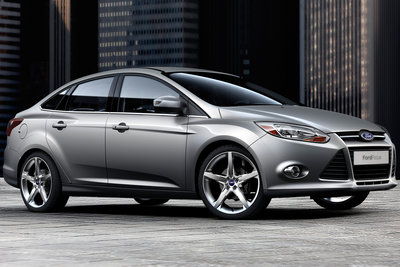 At a Glance
| | |
| --- | --- |
| Pricing | $16,500 - $23,495 |
| Drive Types | FWD |
| Engines | 2.0l I4 |
| Transmissions | M5, SM6 |
| Fuel Economy | 26-28 (city), 36-38 (highway) |
Overview Information
Compact cars are one of the most hotly contested segments in the industry. It takes a combination of style, value and fuel economy to succeed. Redesigned for 2012, the Ford Focus addresses all three with a range of models from the basic S to the high-end Titanium. A standard 160-bhp, 2.0l four cylinder engine is one of the most powerful engines in the segment, yet maintains a respectable EPA rating of 28 MPG city, 38 MPG highway (6-speed AT). The Focus is slightly smaller than some competitive models but splits the difference in size between the smaller Ford Fiesta, and the larger Ford Fusion. Two body styles are available: a sedan and a five-door hatchback. The basic S and SE have low starting prices, but include common cost cutting items like rear drum brakes and steel wheels with wheel covers. At about $21,000, the Focus SEL addresses both shortcomings nearly matching the price of similarly equipped models from other manufacturers. Ford will continue to expand the Focus lineup adding an all-electric vehicle in 2012, and a plug-in hybrid for 2013.
What Changed:
The 2012 Focus is an all-new vehicle based on Ford's new global C-segment platform. Compared to the prior model in North America the new Focus is longer and wider by several inches. A new 2.0l four-cylinder engine provides the power. A new six speed dual clutch transmission is a big change from the four-speed automatic found in prior models.
Official Word:
The all-new Ford Focus sets a new standard in the small car segment in North America, offering more technologies and features than many expensive European cars, while delivering up to 40 mpg on the highway. "Focus brings a desirable combination of dynamic design, outstanding driver engagement, unmatched levels of technology and impressive fuel economy," said Mark Fields, president of The Americas. "The new model should expand Focus appeal to a whole new generation of customers." Focus...Read.
| Model/Trim/Package | Engine | | | MPG | VjI | Base Price |
| --- | --- | --- | --- | --- | --- | --- |
| Focus sedan S 100A | 2.0l I4 (160-bhp) | M5 | FWD | 26/36/30 | | $16,500 |
| Focus sedan SE 200A | 2.0l I4 (160-bhp) | M5 | FWD | 26/36/30 | | $17,500 |
| Focus sedan SE 200A | 2.0l I4 (160-bhp) | SM6 | FWD | 28/38/32 | | $18,595 |
| Focus sedan SE 201A | 2.0l I4 (160-bhp) | M5 | FWD | 26/36/30 | | $17,895 |
| Focus sedan SE 201A | 2.0l I4 (160-bhp) | SM6 | FWD | 28/38/32 | | $18,990 |
| Focus sedan SE 202A | 2.0l I4 (160-bhp) | M5 | FWD | 26/36/30 | | $18,295 |
| Focus sedan SE 202A | 2.0l I4 (160-bhp) | SM6 | FWD | 28/38/32 | | $19,390 |
| Focus sedan SE 203A | 2.0l I4 (160-bhp) | M5 | FWD | 26/36/30 | | $18,695 |
| Focus sedan SE 203A | 2.0l I4 (160-bhp) | SM6 | FWD | 28/38/32 | | $19,790 |
| Focus sedan SEL 300A | 2.0l I4 (160-bhp) | SM6 | FWD | 28/38/32 | | $20,500 |
| Focus sedan SEL 301A | 2.0l I4 (160-bhp) | SM6 | FWD | 28/38/32 | | $21,495 |
| Focus sedan SEL 302A | 2.0l I4 (160-bhp) | SM6 | FWD | 28/38/32 | | $21,895 |
| Focus sedan SEL 303A | 2.0l I4 (160-bhp) | SM6 | FWD | 28/38/32 | | $22,890 |
| Focus sedan Titanium 400A | 2.0l I4 (160-bhp) | SM6 | FWD | 28/38/32 | | $22,200 |
| Focus sedan Titanium 401A | 2.0l I4 (160-bhp) | SM6 | FWD | 28/38/32 | | $23,495 |
Comparisons
Videos
Model History