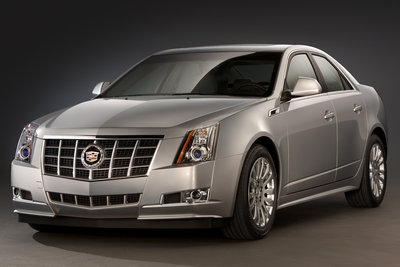 At a Glance
| | |
| --- | --- |
| Pricing | $35,915 - $63,215 |
| Drive Types | RWD, AWD |
| Engines | 3.0l V6, 3.6l V6, 6.2l V8 S |
| Transmissions | A6, M6 |
| Fuel Economy | 12-18 (city), 18-27 (highway) |
Overview Information
This CTS is a serious sports sedan that requires no apologies. The fresh interior design is complemented with high quality materials. Engine choices include a 3.0l V6 (270-bhp), a 3.6l V6 (318-bhp) and the outrageous 556-bhp, 6.2l V8. Transmission choices include a 6-speed manual or automatic. Optional AWD and a limited-slip differential provide additional traction. In theory, the CTS competes with compact premium models like the BMW 3-Series and Mercedes-Benz C-class. However the larger proportions of the CTS are closer to mid-sized models like the Mercedes-Benz E-Class. Prices start in the low about $40,000s for a model with leather seats and an automatic transmission.
What Changed:
The 3.6l V6 is updated for 2012. The new engine produces 318-bhp, an increase of 14-bhp over the previous engine. CTS Models for 2012 wear a distinctive new grille with a more prominent grid.
Official Word:
Since its introduction in 2002 as a '03 model, the CTS sedan has been pivotal in Cadillac's re-emergence as one of the world's premier manufacturers of luxury sports cars. It continues to draw new customers from imports and establish loyalty among repeat buyers, with sales up more than 62 percent for the first quarter of 2011. Continuous improvements have helped keep the CTS family at the top of customer consideration lists and earn critical praise, including...Read.
| Model/Trim/Package | Engine | | | MPG | VjI | Base Price |
| --- | --- | --- | --- | --- | --- | --- |
| CTS Base 1SB | 3.0l V6 (270-bhp) | M6 | RWD | 16/26/20 | | $35,915 |
| CTS Base 1SB | 3.0l V6 (270-bhp) | A6 | RWD | 18/27/22 | | $37,290 |
| CTS Base 1SB | 3.0l V6 (270-bhp) | A6 | AWD | 18/26/22 | | $39,115 |
| CTS Luxury 1SD | 3.0l V6 (270-bhp) | M6 | RWD | 16/26/20 | | $39,050 |
| CTS Luxury 1SD | 3.0l V6 (270-bhp) | A6 | RWD | 18/27/22 | | $40,425 |
| CTS Luxury 1SD | 3.0l V6 (270-bhp) | A6 | AWD | 18/26/22 | | $42,250 |
| CTS Performance 1SF | 3.6l V6 (318-bhp) | A6 | RWD | 18/27/22 | | $42,290 |
| CTS Performance 1SF | 3.6l V6 (318-bhp) | A6 | AWD | 18/27/22 | | $44,190 |
| CTS Premium 1SH | 3.6l V6 (318-bhp) | A6 | RWD | 18/27/22 | | $48,290 |
| CTS Premium 1SH | 3.6l V6 (318-bhp) | A6 | AWD | 18/27/22 | | $50,190 |
| CTS-V | 6.2l V8 S (556-bhp) | M6 | RWD | 14/19/16 | | $63,215 |
| CTS-V | 6.2l V8 S (556-bhp) | A6 | RWD | 12/18/15 | | $63,215 |
Comparisons
Videos
Model History