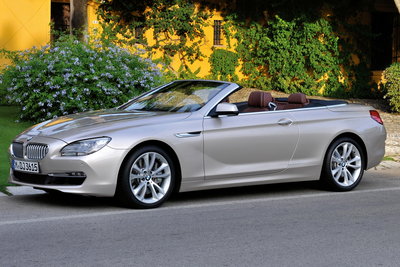 At a Glance
| | |
| --- | --- |
| Pricing | $81,100 - $113,100 |
| Drive Types | RWD, AWD |
| Engines | 3.0l I6 T, 4.4l V8 T |
| Transmissions | A8, M6, SM7 |
| Fuel Economy | 15-21 (city), 19-31 (highway) |
Our Ratings
Overview Information
The 6-Series is BMW's most exclusive 2-door model series. With a base price of over $90,000, this four passenger convertible model is almost without equal. BMW's German competitors offer convertible roadsters in this price range, but the 6-Series manages to keep a tight but usable rear seat. There are several four-passenger convertibles for less money including BMW's own 3-Series convertible. The convertible is a power-retractable soft top that opens in 19 seconds and closes in 24 seconds. The 650i equips a 400-bhp 4.4l V8 under the hood which is paired with an either a six-speed manual or eight-speed automatic. The 640i model pairs BMW's 3.0L inline six with an eight-speed automatic to achieve an impressive EPA rating of 21 / 31 (city / highway). BMW claims that the 650i convertible can sprint to 60MPH in 4.9s. Like other modern BMW models, the 6-Series is chock full of exotic materials and cutting-edge driving aids. Owners can brag about the standard 10.2-inch center screen or the 20-way adjustable seats (650i).
What Changed:
The second-generation 6-series has grown appreciably longer and wider. The 650i convertible retains its soft-top convertible and four-passenger seating. Power is provided by either a 3.0L inline 6 (640i) or a 4.4l V8 (650i) rated at 400-bhp. An eight-speed automatic is standard on the 640i. The 650i offers a six-speed manual in addition to the automatic. The 6-Series range now includes an all-wheel-drive model (650i xDrive). The new interior features a standard 10.2-inch center screen designed to minimize glare.
Official Word:
The iconic M6 returns from a two year hiatus more powerful, more athletic, more focused, more luxurious and more efficient than ever before. Since the "M6" badge was first placed on a BMW back in 1987, this iconic model has exemplified the luxury and daily usability of a top range BMW coupe combined with true super-car performance. Now, in its 3rd generation, the all-new BMW M6 will again be offered as a 4-seat Coupe and Convertible....Read.
| Model/Trim/Package | Engine | | | MPG | VjI | Base Price |
| --- | --- | --- | --- | --- | --- | --- |
| 640i Convertible | 3.0l I6 T (315-bhp) | A8 | RWD | 21/31/26 | 68 | $81,100 |
| 650i Convertible | 4.4l V8 T (400-bhp) | M6 | RWD | 15/22/18 | 71 | $90,500 |
| 650i Convertible | 4.4l V8 T (400-bhp) | A8 | RWD | 15/23/19 | 72 | $90,500 |
| 650i xDrive Convertible | 4.4l V8 T (400-bhp) | A8 | AWD | 15/19/17 | 67 | $93,500 |
| M6 Convertible | 4.4l V8 T (560-bhp) | SM7 | RWD | | | $113,100 |
Comparisons
Reviews
Videos
Model History