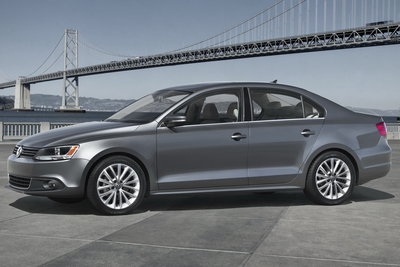 At a Glance
| | |
| --- | --- |
| Pricing | $15,995 - $24,095 |
| Drive Types | FWD |
| Engines | 2.0l I4, 2.0l I4 T D, 2.5l I5 |
| Transmissions | A6, M5, M6, SM6 |
| Fuel Economy | 23-30 (city), 29-42 (highway) |
Our Ratings
Overview Information
The Jetta is Volkswagen's compact sedan that competes with top sellers like the Honda Civic and Toyota Corolla. Volkswagen offers the Jetta in a range of models from the budget friendly S to the range topping SEL and unique TDI. Like other entry-level models, the Jetta S cuts corners by including drum brakes in the rear and using steel rims in place of alloy wheels. As you climb the trim levels and options, the Jetta is priced competitively with its Japanese rivals. However, in the higher trim levels, there are roomier midsize cars available at the same price point. The one model that truly sets the Jetta apart is the TDI. VW's turbodiesel model promises an impressive 30 MPG city, 42 MPG highway without all the complexity of a hybrid powertrain.
What Changed:
The Jetta is all-new for 2011. The new model is significantly longer than its predecessor. A large reduction in weight should aid fuel economy. Three powertrains are offered: a four-cylinder gas engine on entry-level models, a five-cylinder gas engine on midrange models and the high-mileage four cylinder diesel. Four trim levels are offered: S, SE, SEL and TDI (diesel).
Official Word:
Volkswagen of America, Inc. today announced the world debut of its all-new 2011 Jetta, delivering style, precision German engineering and Carefree Maintenance, all at an extremely accessible price. At a starting price point of around $16,000, the all-new 2011 Jetta offers best in class rear legroom, a premium interior and Volkswagen essentials. Unveiled for the first time today at an unexpected urban oasis in Times Square, New York, the all-new 2011 Jetta features clean lines, refined...Read.
| Model/Trim/Package | Engine | | | MPG | VjI | Base Price |
| --- | --- | --- | --- | --- | --- | --- |
| Jetta S | 2.0l I4 (115-bhp) | M5 | FWD | 24/34/28 | 44 | $15,995 |
| Jetta S | 2.0l I4 (115-bhp) | A6 | FWD | 23/29/26 | 44 | $17,095 |
| Jetta SE | 2.5l I5 (170-bhp) | M5 | FWD | 23/33/28 | 48 | $18,195 |
| Jetta SE | 2.5l I5 (170-bhp) | A6 | FWD | 24/31/27 | 48 | $19,295 |
| Jetta SE Convenience | 2.5l I5 (170-bhp) | M5 | FWD | 23/33/28 | 48 | $19,545 |
| Jetta SE Convenience | 2.5l I5 (170-bhp) | A6 | FWD | 24/31/27 | 48 | $20,645 |
| Jetta SE Convenience,Sunroof | 2.5l I5 (170-bhp) | M5 | FWD | 23/33/28 | 48 | $20,795 |
| Jetta SE Convenience,Sunroof | 2.5l I5 (170-bhp) | A6 | FWD | 24/31/27 | 48 | $21,895 |
| Jetta SEL | 2.5l I5 (170-bhp) | M5 | FWD | 23/33/28 | 54 | $21,395 |
| Jetta SEL Sunroof | 2.5l I5 (170-bhp) | M5 | FWD | 23/33/28 | 54 | $22,295 |
| Jetta SEL | 2.5l I5 (170-bhp) | A6 | FWD | 24/31/27 | 54 | $22,495 |
| Jetta SEL Sport | 2.5l I5 (170-bhp) | M5 | FWD | 23/33/28 | 54 | $22,995 |
| Jetta SEL Sunroof | 2.5l I5 (170-bhp) | A6 | FWD | 24/31/27 | 54 | $23,395 |
| Jetta SEL Sport | 2.5l I5 (170-bhp) | A6 | FWD | 24/31/27 | 54 | $24,095 |
| Jetta TDI | 2.0l I4 T D (140-bhp) | SM6 | FWD | 30/42/35 | 53 | $22,995 |
| Jetta TDI | 2.0l I4 T D (140-bhp) | M6 | FWD | 30/42/35 | 53 | $24,095 |
Comparisons
Videos
Model History