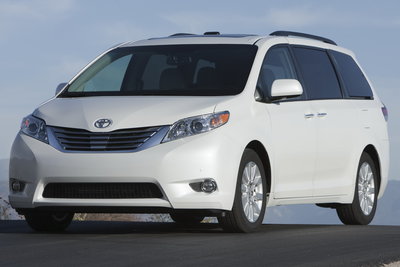 At a Glance
| | |
| --- | --- |
| Pricing | $25,060 - $44,595 |
| Drive Types | FWD, AWD |
| Engines | 2.7l I4, 3.5l V6 |
| Transmissions | A6 |
| Fuel Economy | 16-19 (city), 22-26 (highway) |
Overview Information
The Toyota Sienna is one of the best minivans on the market. A wide variety of trim levels and features ensures that there is a model to fit each buyer's tastes and budget. The 266-bhp 3.5L V-6 and 6-speed automatic on most models provide enough power to handle a full passenger and cargo load. A four-cylinder engine is available on lower grades for buyers interested in higher fuel economy. Seating choices include 7 and 8-passenger configurations. The power-retractable third row seats split and fold flat into the floor. The removable 2nd row center seats slide for/aft for a variety of loading options. Sienna Limited models equip unique second row seats with an extendable leg rest similar to a lounge chair. All Sienna models equip Vehicle Stability Control (VSC) and AWD is available for better traction and handling in bad weather. For those rare buyers looking for a sportier ride, the Sienna now offers an SE trim level with unique bodywork and nineteen inch wheels.
What Changed:
The third generation Sienna has new styling inside and out. Although roughly the same size as its predecessor, the redesigned interior includes a number of improvements to increase the utility of its interior space. The new exterior styling has a more pronounced shoulder line and edgier front and rear styling. A new SE model adds unique bodywork and 19-inch wheels for a more aggressive appearance. The 3.5l V6 engine is now mated to a six-speed automatic and all-wheel-drive is available in more trim levels. A new 2.7l four-cylinder is available on entry-level models increasing the fuel economy. Among the new features introduced on the Sienna is optional reclining lounge seating with leg rests and a wide screen display that allows viewing of two different video sources.
Official Word:
Toyota unveiled the all-new, third-generation Sienna minivan at a media conference today at the 2009 Los Angeles Auto show. The Toyota Sienna is well known as a transportation solution for moving people and cargo comfortably and efficiently. The third-generation Sienna will look and drive more like a sedan, conform to new ideas about personal comfort, easily accommodate cargo, and handle big loads. The 2011 Sienna has been reinvented to handle these needs as it shifts to...Read.
| Model/Trim/Package | Engine | | | MPG | VjI | Base Price |
| --- | --- | --- | --- | --- | --- | --- |
| Sienna | 2.7l I4 (187-bhp) | A6 | FWD | 19/26/22 | | $25,060 |
| Sienna | 3.5l V6 (266-bhp) | A6 | FWD | 18/24/21 | | $26,300 |
| Sienna LE | 2.7l I4 (187-bhp) | A6 | FWD | 19/26/22 | | $26,145 |
| Sienna LE | 3.5l V6 (266-bhp) | A6 | FWD | 18/24/21 | | $29,700 |
| Sienna LE | 3.5l V6 (266-bhp) | A6 | AWD | 16/22/19 | | $31,930 |
| Sienna LE Preferred | 2.7l I4 (187-bhp) | A6 | FWD | 19/26/22 | | $28,880 |
| Sienna SE | 3.5l V6 (266-bhp) | A6 | FWD | 18/24/21 | | $31,350 |
| Sienna SE Preferred | 3.5l V6 (266-bhp) | A6 | FWD | 18/24/21 | | $32,895 |
| Sienna XLE | 3.5l V6 (266-bhp) | A6 | FWD | 18/24/21 | | $32,975 |
| Sienna XLE | 3.5l V6 (266-bhp) | A6 | AWD | 16/22/19 | | $35,315 |
| Sienna XLE Entertainment | 3.5l V6 (266-bhp) | A6 | FWD | 18/24/21 | | $35,470 |
| Sienna XLE Entertainment | 3.5l V6 (266-bhp) | A6 | AWD | 16/22/19 | | $37,810 |
| Sienna XLE Premium | 3.5l V6 (266-bhp) | A6 | FWD | 18/24/21 | | $39,200 |
| Sienna XLE Premium | 3.5l V6 (266-bhp) | A6 | AWD | 16/22/19 | | $41,540 |
| Sienna Limited | 3.5l V6 (266-bhp) | A6 | FWD | 18/24/21 | | $39,300 |
| Sienna Limited | 3.5l V6 (266-bhp) | A6 | AWD | 16/22/19 | | $40,570 |
| Sienna Limited Navigation | 3.5l V6 (266-bhp) | A6 | FWD | 18/24/21 | | $40,910 |
| Sienna Limited Entertainment | 3.5l V6 (266-bhp) | A6 | FWD | 18/24/21 | | $41,795 |
| Sienna Limited Navigation | 3.5l V6 (266-bhp) | A6 | AWD | 16/22/19 | | $42,180 |
| Sienna Limited Entertainment | 3.5l V6 (266-bhp) | A6 | AWD | 16/22/19 | | $43,065 |
| Sienna Limited Premium | 3.5l V6 (266-bhp) | A6 | FWD | 18/24/21 | | $43,325 |
| Sienna Limited Premium | 3.5l V6 (266-bhp) | A6 | AWD | 16/22/19 | | $44,595 |
Comparisons
Reviews
Videos
Model History