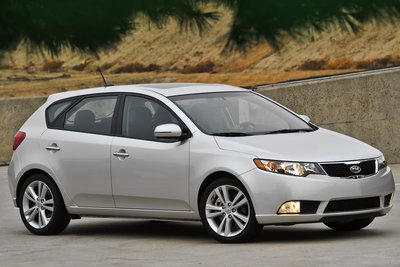 At a Glance
| | |
| --- | --- |
| Pricing | $16,895 - $22,945 |
| Drive Types | FWD |
| Engines | 2.0l I4, 2.4l I4 |
| Transmissions | A6, M6 |
| Fuel Economy | 22-25 (city), 31-34 (highway) |
Our Ratings
Overview Information
The Forte is Kia's latest line of compact cars. The FWD Forte is larger than the top-selling Honda Civic and Toyota Corolla and includes three body styles: a sedan, a five-door hatchback, and a coupe. A 2.0L four cylinder powers most models. The SX performance models swaps the 2.0L four cylinder for a 2.4L engine increasing horsepower by 17-bhp. The SX also upgrades the tires and transmission. With a base price of around $15,000, the Forte undercuts most competitors in the premium segment.
What Changed:
The Forte line will grow to add a 5-door hatchback.
Official Word:
The 2011 Forte compact sedan returns to the Kia vehicle lineup with a new sibling, the all-new 2011 Forte 5-door hatchback. Launched under Kia Motors' ongoing dramatic design-led transformation, both vehicles seamlessly blend style, value, technology, safety features and comfort. Since its debut in Summer 2009, the Forte compact sedan has racked up an impressive list of accolades, including being named a 2010 "Top Safety Pick" by the Insurance Institute for Highway Safety (IIHS), named to...Read.
| Model/Trim/Package | Engine | | | MPG | VjI | Base Price |
| --- | --- | --- | --- | --- | --- | --- |
| Forte 5d EX | 2.0l I4 (156-bhp) | M6 | FWD | 25/34/29 | 57 | $16,895 |
| Forte 5d EX | 2.0l I4 (156-bhp) | A6 | FWD | 25/34/29 | 57 | $17,895 |
| Forte 5d EX Technology | 2.0l I4 (156-bhp) | A6 | FWD | 25/34/29 | 57 | $19,445 |
| Forte 5d SX | 2.4l I4 (173-bhp) | M6 | FWD | 22/32/26 | 62 | $18,395 |
| Forte 5d SX | 2.4l I4 (173-bhp) | A6 | FWD | 23/31/27 | 59 | $19,395 |
| Forte 5d SX Leather | 2.4l I4 (173-bhp) | M6 | FWD | 22/32/26 | 62 | $20,145 |
| Forte 5d SX Leather | 2.4l I4 (173-bhp) | A6 | FWD | 23/31/27 | 59 | $21,145 |
| Forte 5d SX Leather, Technology | 2.4l I4 (173-bhp) | A6 | FWD | 23/31/27 | 59 | $22,945 |
Comparisons
Reviews
Videos
Model History