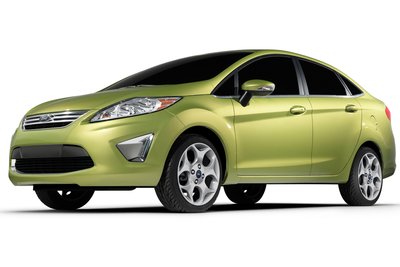 At a Glance
| | |
| --- | --- |
| Pricing | $13,320 - $18,510 |
| Drive Types | FWD |
| Engines | 1.6l I4 |
| Transmissions | M5, SM6 |
| Fuel Economy | 28-29 (city), 37-38 (highway) |
Overview Information
The Fiesta is a small front-wheel-drive car serves as Ford's entry-level model. Available in a four-door sedan and a 5-door hatch, the Fiesta combines smaller proportions and advanced powertrain technology to achieve fuel economy ratings of up to 29/38. Similar in size to the Honda Fit and Toyota Yaris, the Fiesta is over 5 inches shorter and 3 inches narrower than the larger Ford Focus. With bright colors and sharp styling, the Fiesta does not look like inexpensive transportation. Although the base model priced at $14,000 is a bit spartan, it is possible to get a model with alloy wheels and power equipment for around $16,000.
What Changed:
The Fiesta is a small front-wheel-drive car from Ford's global portfolio that is new to the US market. The Fiesta slots below the Focus in Ford's U.S. lineup and serves as Ford's entry-level model. Compared to the latest Focus, the Fiesta is some 5-6 inches shorter and 3-4 inches narrower. A 1.6l four cylinder rated at 119-bhp is the only engine offered in the U.S. Buyers can choose between a five-speed manual or an advanced dual-clutch automated transmission. The Fiesta is offered in four-door and five-door models.
Official Word:
Ford's hot-selling new Ford Fiesta will deliver more than just great looks and top fuel economy of any vehicle in its segment when it goes on sale in North America next year. The 2011 Fiesta - available in four- and five-door body styles - also will set a new small car benchmark for safety, connectivity and powertrain technology. In fact, Fiesta will offer North American buyers a stylish new choice of 15 class-exclusive technologies and projected...Read.
| Model/Trim/Package | Engine | | | MPG | VjI | Base Price |
| --- | --- | --- | --- | --- | --- | --- |
| Fiesta S 100A | 1.6l I4 (119-bhp) | M5 | FWD | 28/37/32 | | $13,320 |
| Fiesta S 100A | 1.6l I4 (119-bhp) | SM6 | FWD | 29/38/33 | | $14,415 |
| Fiesta SE 200A | 1.6l I4 (119-bhp) | M5 | FWD | 28/37/32 | | $14,520 |
| Fiesta SE 202A | 1.6l I4 (119-bhp) | M5 | FWD | 28/37/32 | | $15,015 |
| Fiesta SE 201A | 1.6l I4 (119-bhp) | M5 | FWD | 28/37/32 | | $15,115 |
| Fiesta SE 203A | 1.6l I4 (119-bhp) | M5 | FWD | 28/37/32 | | $15,515 |
| Fiesta SE 200A | 1.6l I4 (119-bhp) | SM6 | FWD | 29/38/33 | | $15,615 |
| Fiesta SE 202A | 1.6l I4 (119-bhp) | SM6 | FWD | 29/38/33 | | $16,110 |
| Fiesta SE 201A | 1.6l I4 (119-bhp) | SM6 | FWD | 29/38/33 | | $16,210 |
| Fiesta SE 203A | 1.6l I4 (119-bhp) | SM6 | FWD | 29/38/33 | | $16,610 |
| Fiesta SEL 300A | 1.6l I4 (119-bhp) | M5 | FWD | 28/37/32 | | $16,620 |
| Fiesta SEL 301A | 1.6l I4 (119-bhp) | M5 | FWD | 28/37/32 | | $17,415 |
| Fiesta SEL 300A | 1.6l I4 (119-bhp) | SM6 | FWD | 29/38/33 | | $17,715 |
| Fiesta SEL 301A | 1.6l I4 (119-bhp) | SM6 | FWD | 29/38/33 | | $18,510 |
Comparisons
Reviews
Videos
Model History