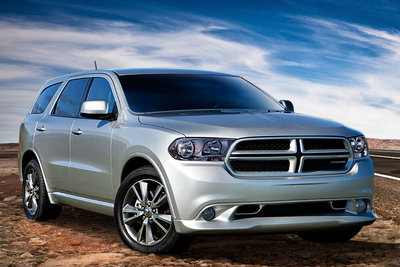 At a Glance
| | |
| --- | --- |
| Pricing | $29,195 - $45,690 |
| Drive Types | RWD, AWD |
| Engines | 3.6l V6, 5.7l V8 |
| Transmissions | A5 |
| Fuel Economy | 13-16 (city), 20-23 (highway) |
Our Ratings
Overview Information
The Dodge Durango is a seven passenger SUV with available V8 power. Related to the Jeep Grand Cherokee, the Durango is more of a classic SUV than most vehicles in the segment. Vehicles like the Buick Enclave, Mazda CX-9, GMC Acadia, Honda Pilot and latest Ford Explorer are family haulers derived from front-wheel-drive based vehicles. The Durango is unique with its available V8 power and rear-wheel-drive. The Durango is offered in a range of models from the entry level Express to the sporty R/T and loaded Citadel model.
What Changed:
The all-new Durango wears a stylish exterior wrapped around a unibody structure borrowed from the latest Jeep Grand Cherokee. The curvy new styling is a sharp break from its tall and boxy predecessor. The new model is shorter in height and length and slightly narrower than past models derived from the Dakota pickup truck. Unlike the Grand Cherokee, the Durango offers three rows of seating for up seven passengers. The Durango is offered with a 3.6l V6 and a 5.7l V8. Both engines are offered in RWD and AWD. A five speed automatic is standard.
Official Word:
From minivans to muscle cars, the Dodge brand introduced an entire lineup of new R/T performance models at the Chicago Auto Show today. Whether it's a Charger, Challenger, Journey, Durango or the Grand Caravan, Dodge now offers R/T models that deliver power, performance and modern technology that combine to create the heart and soul of each vehicle. "We have customers who love cars, who love the thrill of driving, but can only afford one car," said...Read.
| Model/Trim/Package | Engine | | | MPG | VjI | Base Price |
| --- | --- | --- | --- | --- | --- | --- |
| Durango Express | 3.6l V6 (290-bhp) | A5 | RWD | 16/23/19 | 46 | $29,195 |
| Durango Express | 3.6l V6 (290-bhp) | A5 | AWD | 16/22/19 | 43 | $31,195 |
| Durango Crew | 3.6l V6 (290-bhp) | A5 | RWD | 16/23/19 | 46 | $33,195 |
| Durango Crew | 3.6l V6 (290-bhp) | A5 | AWD | 16/22/19 | 41 | $35,195 |
| Durango Crew | 5.7l V8 (360-bhp) | A5 | RWD | 14/20/17 | 47 | $34,690 |
| Durango Crew | 5.7l V8 (360-bhp) | A5 | AWD | 13/20/16 | 44 | $37,090 |
| Durango R/T | 5.7l V8 (360-bhp) | A5 | AWD | 13/20/16 | 47 | $35,465 |
| Durango R/T | 5.7l V8 (360-bhp) | A5 | RWD | 14/20/17 | 50 | $37,865 |
| Durango CrewLux | 3.6l V6 (290-bhp) | A5 | RWD | 16/23/19 | 49 | $38,195 |
| Durango CrewLux | 3.6l V6 (290-bhp) | A5 | AWD | 16/22/19 | 44 | $40,195 |
| Durango CrewLux | 5.7l V8 (360-bhp) | A5 | RWD | 14/20/17 | 50 | $39,690 |
| Durango CrewLux | 5.7l V8 (360-bhp) | A5 | AWD | 13/20/16 | 45 | $41,690 |
| Durango Citadel | 3.6l V6 (290-bhp) | A5 | RWD | 16/23/19 | 49 | $41,795 |
| Durango Citadel | 3.6l V6 (290-bhp) | A5 | AWD | 16/22/19 | 44 | $43,795 |
| Durango Citadel | 5.7l V8 (360-bhp) | A5 | RWD | 14/20/17 | 50 | $43,290 |
| Durango Citadel | 5.7l V8 (360-bhp) | A5 | AWD | 13/20/16 | 45 | $45,690 |
Comparisons
Reviews
Videos
Model History