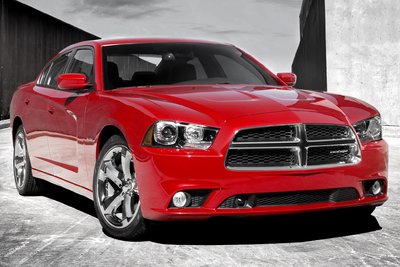 At a Glance
| | |
| --- | --- |
| Pricing | $25,395 - $34,545 |
| Drive Types | RWD, AWD |
| Engines | 3.6l V6, 5.7l V8 |
| Transmissions | A5 |
| Fuel Economy | 15-18 (city), 23-27 (highway) |
Overview Information
The fabled Charger name from the past lives today in the form of a 4-door sedan. A sibling of the Chrysler 300 and Dodge Challenger, the Charger is a large rear-wheel drive sedan that offers a range of powerful engines to match its bold styling. The base model is the Charger SE, which is powered by a 3.6l V6 engine. The higher-performance R/T equips a 370-bhp V8 under the hood and offers optional all-wheel-drive to help get the power to the road. Dodge markets the Charger as a four-door muscle car offering a number of option packages with performance tweaks, upgraded wheels and bright colors. This is a small niche of the market. Aside from its sibling the Chrysler 300, the closest competitor is the Ford Taurus SHO, which is significantly more expensive.
What Changed:
The Charger is all-new for 2011. Although the size and styling are familiar, the Charger wears new sheet metal and has a thoroughly remodeled interior. A new V6 engine that produces 292-bhp powers the base SE model. The R/T V8 model continues to offer a 5.7L HEMI V8. All-wheel-drive is available on the R/T V8 model, but is no longer offered with a six-cylinder.
Official Word:
From minivans to muscle cars, the Dodge brand introduced an entire lineup of new R/T performance models at the Chicago Auto Show today. Whether it's a Charger, Challenger, Journey, Durango or the Grand Caravan, Dodge now offers R/T models that deliver power, performance and modern technology that combine to create the heart and soul of each vehicle. "We have customers who love cars, who love the thrill of driving, but can only afford one car," said...Read.
| Model/Trim/Package | Engine | | | MPG | VjI | Base Price |
| --- | --- | --- | --- | --- | --- | --- |
| Charger SE | 3.6l V6 (292-bhp) | A5 | RWD | 18/27/22 | | $25,395 |
| Charger SE Rallye | 3.6l V6 (292-bhp) | A5 | RWD | 18/27/22 | | $27,645 |
| Charger SE Rallye Plus | 3.6l V6 (292-bhp) | A5 | RWD | 18/27/22 | | $29,395 |
| Charger R/T | 5.7l V8 (370-bhp) | A5 | RWD | 16/25/20 | | $30,395 |
| Charger R/T R/T Plus | 5.7l V8 (370-bhp) | A5 | RWD | 16/25/20 | | $32,395 |
| Charger R/T | 5.7l V8 (370-bhp) | A5 | AWD | 15/23/19 | | $32,545 |
| Charger R/T R/T Plus | 5.7l V8 (370-bhp) | A5 | AWD | 15/23/19 | | $34,545 |
Comparisons
Reviews
Videos
Model History