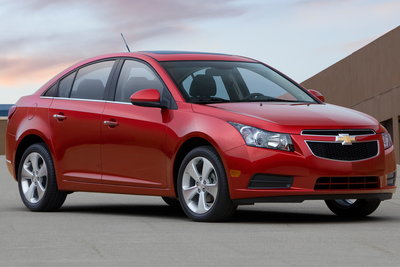 At a Glance
| | |
| --- | --- |
| Pricing | $16,525 - $22,225 |
| Drive Types | FWD |
| Engines | 1.4l I4 T, 1.8l I4 |
| Transmissions | A6, M6 |
| Fuel Economy | 22-28 (city), 35-42 (highway) |
Overview Information
Chevrolet has made steady but slow progress on improving its small cars over the last decade. On paper, the Cruze looks like the most competitive small car GM has produced to date. The Cruze is larger than the Cobalt sedan with a more stylish exterior and interior. Powertrains choices center around smaller displacement 1.4l and 1.8l four cylinder engines and include six-speed manual and automatic transmissions. The Cruze ECO model equipped with a manual transmission is rated at 42MPG on the highway by the EPA. All other models are rated in the mid-thirties.
What Changed:
The Cruze is Chevrolet's new compact sedan, which effectively replaces the Cobalt. Compared to the Cobalt the Cruze is wider and has a longer wheelbase resulting in a bigger interior. The base engine is a 1.8l four cylinder rated at 136-bhp. Higher trim levels are equipped with a 1.4l turbocharged four-cylinder rated at 138-bhp. The 1.4l has a significantly higher torque rating of 148 lb-ft. Six-speed manual and automatic transmissions are offered.
Official Word:
At the New York Auto Show, Chevrolet reveals the compact 2011 Cruze Eco. This high-efficiency model is powered by an Ecotec 1.4L turbocharged engine with variable valve timing that achieves an estimated 40 mpg on the highway when combined with a six-speed manual transmission. Cruze Eco is expected to deliver the best fuel economy in the compact segment, while offering midsize car presence. "The Cruze Eco delivers hybrid-like efficiency without the price tag," said Jim Campbell,...Read.
| Model/Trim/Package | Engine | | | MPG | VjI | Base Price |
| --- | --- | --- | --- | --- | --- | --- |
| Cruze LS | 1.8l I4 (136-bhp) | M6 | FWD | 26/36/30 | | $16,525 |
| Cruze LS | 1.8l I4 (136-bhp) | A6 | FWD | 22/35/28 | | $17,450 |
| Cruze ECO | 1.8l I4 (136-bhp) | M6 | FWD | 28/42/34 | | $18,425 |
| Cruze ECO Connectivity Plus Cruise | 1.8l I4 (136-bhp) | M6 | FWD | 28/42/34 | | $18,950 |
| Cruze ECO Connectivity Plus Cruise | 1.4l I4 T (138-bhp) | A6 | FWD | 26/37/31 | | $19,875 |
| Cruze 1LT | 1.4l I4 T (138-bhp) | A6 | FWD | 24/36/29 | | $18,425 |
| Cruze 1LT Connectivity Plus Cruise | 1.4l I4 T (138-bhp) | A6 | FWD | 24/36/29 | | $18,950 |
| Cruze 2LT | 1.4l I4 T (138-bhp) | A6 | FWD | 24/36/29 | | $20,925 |
| Cruze LTZ | 1.4l I4 T (138-bhp) | A6 | FWD | 24/36/29 | | $22,225 |
Comparisons
Videos
Model History