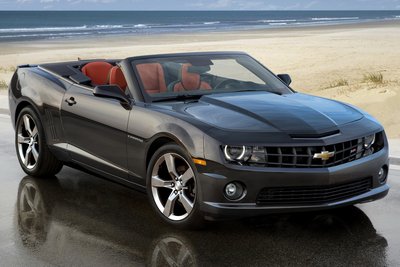 At a Glance
| | |
| --- | --- |
| Pricing | $29,275 - $40,960 |
| Drive Types | RWD |
| Engines | 3.6l V6, 6.2l V8 |
| Transmissions | A6, M6 |
| Fuel Economy | 16-18 (city), 24-29 (highway) |
Our Ratings
Overview Information
Through five generations, the Chevrolet Camaro has been General Motor's answer to the successful Ford Mustang. In 2003, Chevrolet dropped the Camaro due to sagging sales, but six years later, the Camaro returned as an answer to strong sales from the Mustang. In 2011, the Camaro added a convertible model. The Camaro convertible is a four-passenger soft-top convertible that can retract in about 20 seconds. Convertible models are offered in LT and SS trim levels. The base LT model equips a 304-bhp, 3.6L V6 engine, but it is the 6.2L V8-powered SS that will have people reliving the muscle car era. With prices ranging from the high twenties, the Camaro convertible offers outstanding performance value.
What Changed:
The Camaro adds a four-passenger convertible to the lineup. The convertible top is a power operated fabric top that retracts in about 20 seconds. Powertrain choices for the convertible mirror those of the coupe: a 3.6l V6 in LT models and a 6.2l V8 in SS models. Both offer a choice of a six-speed manual or automatic transmission.
Official Word:
A special-edition Chevrolet Camaro Convertible will serve as the official pace car of the 2011 Indianapolis 500. Chevrolet and Indianapolis Motor Speedway officials made the announcement at the Barrett-Jackson Scottsdale classic auto auction, where a bidder will have the opportunity to purchase the first of 50 Indianapolis 500 Festival Committee cars. The 2011 Camaro Convertible is the 22nd Chevrolet chosen to pace "The Greatest Spectacle In Racing(R)" and the seventh Camaro. Adding to the rich heritage...Read.
| Model/Trim/Package | Engine | | | MPG | VjI | Base Price |
| --- | --- | --- | --- | --- | --- | --- |
| Camaro Convertible 1LT | 3.6l V6 (312-bhp) | M6 | RWD | 17/29/22 | 66 | $29,275 |
| Camaro Convertible 1LT | 3.6l V6 (312-bhp) | A6 | RWD | 18/29/23 | 66 | $30,270 |
| Camaro Convertible 2LT | 3.6l V6 (312-bhp) | M6 | RWD | 17/29/22 | 66 | $32,775 |
| Camaro Convertible 2LT | 3.6l V6 (312-bhp) | A6 | RWD | 18/29/23 | 66 | $33,960 |
| Camaro Convertible 1SS | 6.2l V8 (426-bhp) | M6 | RWD | 16/24/20 | 71 | $36,775 |
| Camaro Convertible 1SS | 6.2l V8 (400-bhp) | A6 | RWD | 16/25/20 | 67 | $37,770 |
| Camaro Convertible 2SS | 6.2l V8 (426-bhp) | M6 | RWD | 16/24/20 | 71 | $39,775 |
| Camaro Convertible 2SS | 6.2l V8 (400-bhp) | A6 | RWD | 16/25/20 | 67 | $40,960 |
Comparisons
Reviews
Videos
Model History