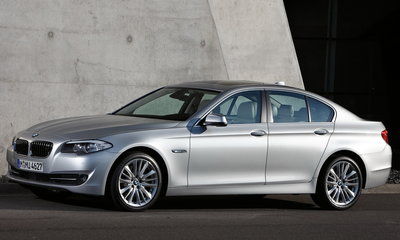 At a Glance
| | |
| --- | --- |
| Pricing | $45,050 - $62,500 |
| Drive Types | RWD, AWD |
| Engines | 3.0l I6, 3.0l I6 T, 4.4l V8 T |
| Transmissions | A8, M6 |
| Fuel Economy | 15-22 (city), 22-32 (highway) |
Overview Information
The mid-sized 5-Series is a technological tour-de-force. A host of electronics, electronic driving aids, exotic materials and construction techniques set the 5-Series apart from the mainstream. Three engines are offered including two inline six-cylinder engines and a powerful turbocharged V8. The 5-Series also offers the xDrive all-wheel-drive system found in the X3 and X5. All models are available with a choice of 6-speed manual or automatic. The interior is relatively uncluttered given that a large number of functions are located within the iDrive system that dominates the center console. Unlike many of its competitors, the 5-Series emphasizes the "sport" in sport sedan. Only the 535i and 550i rear-wheel-drive models will be offered initially. The 528i and all-wheel-drive models will be added later in the year.
What Changed:
The sixth generation 5-Series features slightly larger proportions as it now shares an architecture with the larger 7-Series. The new models adopt a multilink suspension setup in the front and rear. Three engines are offered: an entry-level inline-six (528i), a turbocharged inline-six (535i), and the turbocharged 4.4l V8 (550i). A new eight-speed automatic transmission is offered but the six-speed manual remains. Both rear-wheel-drive and xDrive all-wheel-drive are offered.
Official Word:
The new BMW 5 Series Sedan marks the epitome of modern design and driving pleasure in the world of premium midsize sedans. Through its athletic and executive looks, driving dynamics typical of BMW, and innovative comfort and safety features, the sixth generation of BMW's executive express accurately reflects the standards upheld by the world's most successful manufacturer of premium cars. Design: charismatic and athletic. With the longest wheelbase in the segment, a long and sleek hood,...Read.
| Model/Trim/Package | Engine | | | MPG | VjI | Base Price |
| --- | --- | --- | --- | --- | --- | --- |
| 528i | 3.0l I6 (240-bhp) | A8 | RWD | 22/32/26 | | $45,050 |
| 528i leather | 3.0l I6 (240-bhp) | A8 | RWD | 20/32/25 | | $46,500 |
| 535i | 3.0l I6 T (300-bhp) | M6 | RWD | 19/28/23 | | $50,100 |
| 535i | 3.0l I6 T (300-bhp) | A8 | RWD | 20/30/24 | | $50,100 |
| 535i leather | 3.0l I6 T (300-bhp) | A8 | RWD | 20/30/24 | | $51,550 |
| 535i leather | 3.0l I6 T (300-bhp) | M6 | RWD | 19/28/23 | | $51,550 |
| 535i xDrive | 3.0l I6 T (300-bhp) | A8 | AWD | 19/29/24 | | $52,400 |
| 535i xDrive leather | 3.0l I6 T (300-bhp) | A8 | AWD | 19/29/24 | | $53,850 |
| 550i | 4.4l V8 T (400-bhp) | A8 | RWD | 17/25/21 | | $60,200 |
| 550i | 4.4l V8 T (400-bhp) | M6 | RWD | 15/22/18 | | $60,200 |
| 550i xDrive | 4.4l V8 T (400-bhp) | A8 | AWD | 16/24/20 | | $62,500 |
Comparisons
Videos
Model History