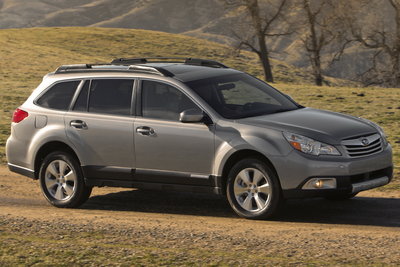 At a Glance
| | |
| --- | --- |
| Pricing | $22,995 - $30,995 |
| Drive Types | AWD |
| Engines | 2.5l H4, 3.6l H6 |
| Transmissions | A5, CVT, M6 |
| Fuel Economy | 18-22 (city), 25-29 (highway) |
Our Ratings
Overview Information
The iconic AWD Outback Wagon provides all the room and traction that many people need from an SUV without the bulk and poor fuel economy. Increased ground clearance and strengthened suspension improve off-pavement capability. The Outback excels at traversing deep snowdrifts and muddy roads. Engine options range from a 170-bhp 2.5L flat-4 (2.5i) or a 256-bhp flat-6 (3.6 R). Transmissions choices include a 6-speed manual, 5-speed automatic, or CVT. The Outback 2.5i equipped with the CVT turns in a respectable EPA rating of 22 city / 29 hwy.
What Changed:
The fourth generation Outback is grows in wheelbase and width. The increased size adds to the rear seat increasing rear seat room and cargo volume. The Outback continues to offer a choice of 4- or 6-cylinder boxer engines. The displacement of the 6-cylinder engine has increased to 3.6L. Outback 2.5i models equip a CVT transmission in place of the traditional automatic. The CVT equipped models turn in better fuel economy than the third generation models.
Official Word:
Subaru of America, Inc. made a surprise introduction today, revealing the all-new 2010 Subaru Outback(R) at its media conference at the New York International Auto Show. The fourth-generation of the World's First Sport Utility Wagon(R) is a roomier and more capable interpretation of the vehicle that launched the crossover trend 15 years ago. Distinguished by bolder and crisper styling, the all-new 2010 Subaru Outback delivers enhanced performance, comfort and economy with the introduction of an all-new...Read.
| Model/Trim/Package | Engine | | | MPG | VjI | Base Price |
| --- | --- | --- | --- | --- | --- | --- |
| Outback 2.5i | 2.5l H4 (170-bhp) | M6 | AWD | 19/27/23 | 48 | $22,995 |
| Outback 2.5i | 2.5l H4 (170-bhp) | CVT | AWD | 22/29/25 | 43 | $23,995 |
| Outback 2.5i Premium | 2.5l H4 (170-bhp) | M6 | AWD | 19/27/23 | 51 | $24,295 |
| Outback 2.5i Premium | 2.5l H4 (170-bhp) | CVT | AWD | 22/29/25 | 46 | $25,295 |
| Outback 2.5i Limited | 2.5l H4 (170-bhp) | CVT | AWD | 22/29/25 | 46 | $27,995 |
| Outback 3.6R | 3.6l H6 (256-bhp) | A5 | AWD | 18/25/21 | 53 | $27,995 |
| Outback 3.6R Premium | 3.6l H6 (256-bhp) | A5 | AWD | 18/25/21 | 51 | $28,995 |
| Outback 3.6R Limited | 3.6l H6 (256-bhp) | A5 | AWD | 18/25/21 | 51 | $30,995 |
Comparisons
Reviews
Videos
Model History