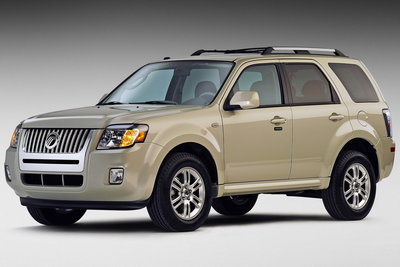 At a Glance
| | |
| --- | --- |
| Pricing | $23,035 - $35,695 |
| Drive Types | FWD, AWD |
| Engines | 2.5l I4, 2.5l I4 HEV, 3.0l V6 |
| Transmissions | A6, CVT |
| Fuel Economy | 18-34 (city), 23-31 (highway) |
Overview Information
The Mariner is a Mercury version of the popular Ford Escape. This SUV offers a combination of nimble handling, comfortable ride, and an optional 3.0L V-6 for decent performance. The standard 2.5L I-4 is available with a 5-speed manual or 6-speed automatic. Only the 6-speed automatic is available with the V-6. The Mariner is also offered with a Hybrid powertrain. By alternately running off batteries and the gasoline engine, the Mariner Hybrid boasts a 33 mpg rating in city driving. Although the Mariner's AWD system is optimized for on-road traction, it is capable of light duty off-road excursions. Customers looking to optimize fuel economy can choose a FWD only version of any model.
What Changed:
The Mariner adds new optional safety and convenience features. A parking assistance feature helps the driver steer in to parking spaces. The system also helps compensate for steering pull on uneven road surfaces.
Official Word:
For 2010, Ford Escape and Mercury Mariner add a host of new features that improve safety and make driving more convenient. Escape and Mariner also become two of the first Ford Motor Company vehicles to feature SYNC(R) with Traffic, Directions and Information - helping reduce distractions while accessing important route and traffic information. SYNC with Traffic, Directions and Information leverages industry-leading voice-recognition software, integrated GPS technology, and a customer's Bluetooth(R)-capable mobile phone. SYNC's new applications provide...Read.
| Model/Trim/Package | Engine | | | MPG | VjI | Base Price |
| --- | --- | --- | --- | --- | --- | --- |
| Mariner 100A | 2.5l I4 (171-bhp) | A6 | FWD | 21/28/24 | | $23,035 |
| Mariner 100A | 3.0l V6 (240-bhp) | A6 | FWD | 19/25/22 | | $24,035 |
| Mariner 100A | 2.5l I4 (171-bhp) | A6 | AWD | 20/26/23 | | $24,785 |
| Mariner 100A | 3.0l V6 (240-bhp) | A6 | AWD | 18/23/20 | | $25,785 |
| Mariner Premier 200A | 2.5l I4 (171-bhp) | A6 | FWD | 21/28/24 | | $25,105 |
| Mariner Premier 200A | 3.0l V6 (240-bhp) | A6 | FWD | 19/25/22 | | $26,105 |
| Mariner Premier 200A | 2.5l I4 (171-bhp) | A6 | AWD | 20/26/23 | | $26,855 |
| Mariner Premier 200A | 3.0l V6 (240-bhp) | A6 | AWD | 18/23/20 | | $27,855 |
| Mariner Hybrid 500A | 2.5l I4 HEV (153-bhp) | CVT | FWD | 34/31/33 | | $29,995 |
| Mariner Hybrid 500A | 2.5l I4 HEV (153-bhp) | CVT | AWD | 30/27/29 | | $31,745 |
| Mariner Hybrid Premier 501A | 2.5l I4 HEV (153-bhp) | CVT | FWD | 34/31/33 | | $33,945 |
| Mariner Hybrid Premier 501A | 2.5l I4 HEV (153-bhp) | CVT | AWD | 30/27/29 | | $35,695 |
Comparisons
Reviews
Videos
Model History