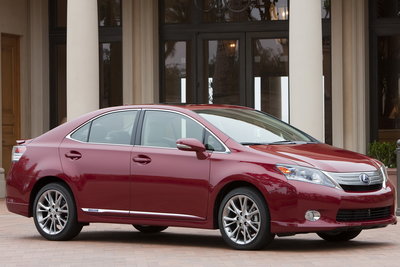 At a Glance
| | |
| --- | --- |
| Pricing | $34,650 - $37,420 |
| Drive Types | FWD |
| Engines | 2.4l I4 HEV |
| Transmissions | CVT |
| Fuel Economy | 35 (city), 34 (highway) |
Our Ratings
Overview Information
The Toyota Prius has become an icon for environmental awareness and high fuel economy and many owners appreciate that the distinctively styled Prius speaks volumes about their awareness. The drawback is that Prius is too restrained and simplistic for buyers who are considering an entry-level luxury model. The Lexus HS 250h is a more luxurious vehicle designed to fulfill that need. The HS is a dedicated hybrid model with a powertrain similar to that of the Prius. However, the HS has a larger, more powerful gas engine.
What Changed:
The new HS 250h is a dedicated full hybrid model which also serves as Lexus's new entry-level vehicle. The gas engine is a 2.4L four cylinder and when paired with the electric motor produces a net of 187 horsepower.
Official Word:
Lexus today announced the Manufacturer's Suggested Retail Price (MSRP) for the new HS 250h hybrid, which has the best combined EPA mpg rating of any luxury vehicle in the U.S. The 2010 HS 250h, Lexus' first dedicated hybrid and the fourth offering in its lineup, is available in standard and Premium models. The standard version will have an MSRP of $34,200, while the Premium model will carry an MSRP of $36,970. They will arrive at dealerships...Read.
| Model/Trim/Package | Engine | | | MPG | VjI | Base Price |
| --- | --- | --- | --- | --- | --- | --- |
| HS 250h | 2.4l I4 HEV (187-bhp) | CVT | FWD | 35/34/35 | 46 | $34,650 |
| HS 250h Touring | 2.4l I4 HEV (187-bhp) | CVT | FWD | 35/34/35 | 49 | $36,250 |
| HS 250h Premium | 2.4l I4 HEV (187-bhp) | CVT | FWD | 35/34/35 | 49 | $37,420 |
Comparisons
Videos
Model History