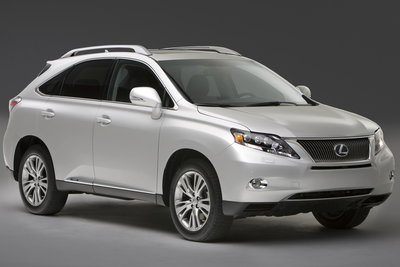 At a Glance
| | |
| --- | --- |
| Pricing | $37,625 - $49,900 |
| Drive Types | FWD, AWD |
| Engines | 3.5l V6, 3.5l V6 HEV |
| Transmissions | A6, CVT |
| Fuel Economy | 18-28 (city), 24-27 (highway) |
Our Ratings
Overview Information
The Lexus RX was one of the first car-based SUVs to gain popularity. During the boom of SUV sales, the RX offered a strong combination of SUV versatility and entry-level (for Lexus) pricing. Offered in FWD and AWD forms, the RX350 is powered by a 3.5L V6. The Lexus 450H is the hybrid powertrain version. Classified as a full hybrid, the RX450H is capable of running entirely on gasoline or electric power. The complexity of the hybrid powertrain adds improved fuel economy and the bragging rights that come along with that. However, the hybrid version also adds about $10k to the sticker price bringing the MSRP to about $50k with some of the more desirable options.
What Changed:
The RX is overhauled with new styling inside and out. The RX lineup remains the same with both V6 and hybrid models offered in FWD and AWD. The gas/electric hybrid model is now called the RX 450h. The new model is roughly the same size, increasing only 1 inch in length and 2 inches in width. Although the RX has gained both weight and power, its fuel economy has improved.
Official Word:
Lexus unveiled the all-new, next generation RX 350 and RX 450h hybrid at a press conference today at the Los Angeles Auto Show. The vehicle that pioneered the car-based luxury utility vehicle segment when it launched in 1998, is completely redesigned and will continue to set new benchmarks in areas that have made it the best-selling luxury utility vehicle: innovation, styling, performance, utility and comfort. At the heart of the new RX models are two improved...Read.
| Model/Trim/Package | Engine | | | MPG | VjI | Base Price |
| --- | --- | --- | --- | --- | --- | --- |
| RX 350 | 3.5l V6 (275-bhp) | A6 | FWD | 18/25/21 | 47 | $37,625 |
| RX 350 | 3.5l V6 (275-bhp) | A6 | AWD | 18/24/21 | 45 | $39,025 |
| RX 350 Premium | 3.5l V6 (275-bhp) | A6 | FWD | 18/25/21 | 47 | $40,025 |
| RX 350 Premium | 3.5l V6 (275-bhp) | A6 | AWD | 18/24/21 | 45 | $41,425 |
| RX 350 Premium + Comfort | 3.5l V6 (275-bhp) | A6 | FWD | 18/25/21 | 47 | $41,975 |
| RX 350 Luxury | 3.5l V6 (275-bhp) | A6 | FWD | 18/25/21 | 47 | $42,525 |
| RX 350 Premium + Comfort | 3.5l V6 (275-bhp) | A6 | AWD | 18/24/21 | 45 | $43,375 |
| RX 350 Luxury | 3.5l V6 (275-bhp) | A6 | AWD | 18/24/21 | 45 | $43,925 |
| RX 350 Luxury + Comfort | 3.5l V6 (275-bhp) | A6 | FWD | 18/25/21 | 47 | $44,425 |
| RX 350 Luxury + Comfort | 3.5l V6 (275-bhp) | A6 | AWD | 18/24/21 | 45 | $45,825 |
| RX 450h | 3.5l V6 HEV (245-bhp) | CVT | FWD | 28/27/28 | 42 | $42,685 |
| RX 450h | 3.5l V6 HEV (245-bhp) | CVT | AWD | 28/27/28 | 42 | $44,275 |
| RX 450h Premium | 3.5l V6 HEV (245-bhp) | CVT | FWD | 28/27/28 | 42 | $45,085 |
| RX 450h Premium + Comfort | 3.5l V6 HEV (245-bhp) | CVT | FWD | 28/27/28 | 42 | $45,910 |
| RX 450h Premium | 3.5l V6 HEV (245-bhp) | CVT | AWD | 28/27/28 | 42 | $46,675 |
| RX 450h Premium + Comfort | 3.5l V6 HEV (245-bhp) | CVT | AWD | 28/27/28 | 42 | $47,500 |
| RX 450h Luxury | 3.5l V6 HEV (245-bhp) | CVT | AWD | 28/27/28 | 42 | $49,075 |
| RX 450h Luxury + Comfort | 3.5l V6 HEV (245-bhp) | CVT | AWD | 28/27/28 | 42 | $49,900 |
Comparisons
Videos
Model History