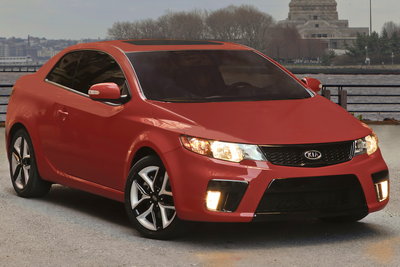 At a Glance
| | |
| --- | --- |
| Pricing | $16,595 - $20,395 |
| Drive Types | FWD |
| Engines | 2.0l I4, 2.4l I4 |
| Transmissions | A4, A5, M5 |
| Fuel Economy | 22-25 (city), 31-34 (highway) |
Our Ratings
Overview Information
In 2010, Kia launched the new Forte line, replacing the Spectra line. Joining the Forte sedan is an aggressively styled new coupe named Forte Koup. The Koup has two doors, seating for five and a traditional trunk rather than a hatchback. In size, the Kia is very close to the Honda Civic coupe. Koup is available in two trim levels: EX and SX. The EX is powered by a 2.0l four cylinder engine rated at 156-bhp. The EX model includes alloy wheels and disc brakes. The SX model equips a more powerful 2.4l four cylinder engine rated at 173-bhp and includes more aggressive wheels and tires. Leather seating is optional on both trim levels. The competition for the Forte Koup is the Scion TC and Honda Civic coupe. The Kia enjoys a price advantage over both models. The Forte Koup is a viable alternative in the small car segment.
What Changed:
Kia has a new front-wheel-drive compact car line for 2010. Although the Forte replaces the long-runing Spectra, a new coupe model provides Kia with another vehicle in the compact segment. The Forte Koup debuts with two trim levels: EX and SX. A 2.0L four-cylinder engine is standard on EX models, whereas the SX model equips a larger 2.4L engine. The SX model also equips sport seats and larger 17-inch tires.
Official Word:
With performance-inspired, aggressive and sleek styling, Kia Motors America (KMA) today globally debuted the 2010 Forte Koup production vehicle during a press conference at the 2009 New York International Auto Show (NYIAS). Joining the Forte family in the KMA lineup, the company's first-ever two-door coupe embodies the brand's current bold design direction first seen on the concept version of the Soul urban passenger vehicle in 2006. "On the heel of the introductions of the Soul and...Read.
| Model/Trim/Package | Engine | | | MPG | VjI | Base Price |
| --- | --- | --- | --- | --- | --- | --- |
| Forte Koup EX | 2.0l I4 (156-bhp) | M5 | FWD | 25/34/29 | 62 | $16,595 |
| Forte Koup EX | 2.0l I4 (156-bhp) | A4 | FWD | 25/34/29 | 60 | $17,595 |
| Forte Koup EX Leather + Sunroof | 2.0l I4 (156-bhp) | A4 | FWD | 25/34/29 | 60 | $19,295 |
| Forte Koup SX | 2.4l I4 (173-bhp) | M5 | FWD | 22/32/26 | 67 | $17,695 |
| Forte Koup SX | 2.4l I4 (173-bhp) | A5 | FWD | 23/31/27 | 67 | $18,695 |
| Forte Koup SX Leather + Sunroof | 2.4l I4 (173-bhp) | M5 | FWD | 22/32/26 | 67 | $19,395 |
| Forte Koup SX Leather + Sunroof | 2.4l I4 (173-bhp) | A5 | FWD | 23/31/27 | 67 | $20,395 |
Comparisons
Reviews
Videos
Model History