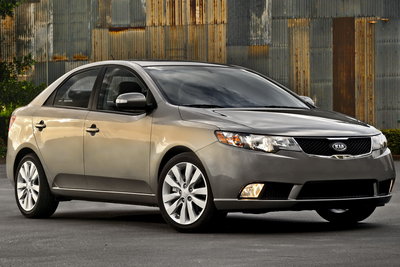 At a Glance
| | |
| --- | --- |
| Pricing | $13,695 - $19,495 |
| Drive Types | FWD |
| Engines | 2.0l I4, 2.4l I4 |
| Transmissions | A4, A5, M5, M6 |
| Fuel Economy | 22-27 (city), 31-36 (highway) |
Our Ratings
Overview Information
The Kia Forte is a new compact sedan that replaces the Spectra in Kia's lineup. Kia chose to change the name of the model to make a sharp break with the previous model. The Forte has sharper styling and a more upscale appearance than the Spectra. The FWD Forte is larger than the top-selling Honda Civic and Toyota Corolla. A 2.0L four cylinder powers most models with a fuel economy rating of up to 27 city/36 hwy. An SX performance model swaps the 2.0L four cylinder for a 2.5L engine increasing horsepower by 17-bhp. The SX also upgrades the tires and transmission. With a base price of around $14,000, the Forte undercuts most competitors in the premium segment.
What Changed:
Kia has a new front-wheel-drive compact car for 2010. The Forte replaces the long-runing Spectra. The Forte sedan debuts with three trim levels: LX, EX and SX. A 2.0L four-cylinder engine is standard on LX and EX models, whereas the SX model equips a larger 2.4L engine. The Forte is offered in sedan and coupe bodies.
Official Word:
Following the successful launch of the all-new, widely acclaimed 2010 Kia Soul urban passenger vehicle in Miami earlier this year, Kia Motors America (KMA) today launched the all-new 2010 Kia Forte compact sedan in Seattle. The Emerald City, known for its innovation and creativity, provides the perfect backdrop for Forte, a true pioneering player in its segment. On sale in North America early this summer, Forte is the first of its kind to offer consumers an...Read.
| Model/Trim/Package | Engine | | | MPG | VjI | Base Price |
| --- | --- | --- | --- | --- | --- | --- |
| Forte LX | 2.0l I4 (156-bhp) | M5 | FWD | 25/34/29 | 56 | $13,695 |
| Forte LX | 2.0l I4 (156-bhp) | A4 | FWD | 25/34/29 | 54 | $14,695 |
| Forte EX | 2.0l I4 (156-bhp) | M5 | FWD | 25/34/29 | 56 | $15,995 |
| Forte EX Premium | 2.0l I4 (156-bhp) | M5 | FWD | 25/34/29 | 56 | $16,895 |
| Forte EX | 2.0l I4 (156-bhp) | A4 | FWD | 25/34/29 | 54 | $16,995 |
| Forte EX Fuel Economy Package | 2.0l I4 (156-bhp) | A5 | FWD | 27/36/31 | 56 | $17,595 |
| Forte EX Premium | 2.0l I4 (156-bhp) | A4 | FWD | 25/34/29 | 54 | $17,895 |
| Forte EX Premium + Leather | 2.0l I4 (156-bhp) | A4 | FWD | 25/34/29 | 54 | $18,895 |
| Forte SX | 2.4l I4 (173-bhp) | M6 | FWD | 22/32/26 | 64 | $17,495 |
| Forte SX | 2.4l I4 (173-bhp) | A5 | FWD | 23/31/27 | 64 | $18,495 |
| Forte SX Leather | 2.4l I4 (173-bhp) | M6 | FWD | 22/32/26 | 64 | $18,495 |
| Forte SX Leather | 2.4l I4 (173-bhp) | A5 | FWD | 23/31/27 | 64 | $19,495 |
Comparisons
Reviews
Videos
Model History