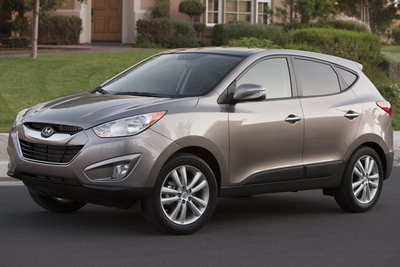 At a Glance
| | |
| --- | --- |
| Pricing | $18,995 - $28,695 |
| Drive Types | FWD, AWD |
| Engines | 2.4l I4 |
| Transmissions | A6, M6 |
| Fuel Economy | 21-23 (city), 28-31 (highway) |
Our Ratings
Overview Information
The Tucson is a compact SUV from Hyundai that competes with hot sellers like the Honda CR-V, Ford Escape, and Toyota RAV4. Compared to these vehicles, the Tucson has about the same passenger volume and wheelbase, but gives up a little bit of cargo room due to its shorter overall length. The smaller and lighter Tucson boasts an impressive fuel economy rating of 23 city/31 hwy for the FWD model.
What Changed:
The new second generation Tucson is longer and wider than its predecessor. The new model has a restyled exterior and interior. A 2.4l four-cylinder engine is the standard engine. A six-speed automatic is standard on all models except the base model with is equipped with a six-speed manual transmission. The Tucson continues to offer both FWD and AWD models.
Official Word:
In 2010, a revolutionary new Tucson joins the rapidly evolving Hyundai product line. The sleek crossover from Hyundai, with its athletic European design, strikes a stark contrast from its predecessor and improves in every functional area, from its roomier cabin with extra cargo space to its leap in fuel economy and technology. Tucson features the company's "Fluidic Sculpture" design language and is the first vehicle in Hyundai's 24/7 version 2.0 product initiative (seven all-new models by...Read.
| Model/Trim/Package | Engine | | | MPG | VjI | Base Price |
| --- | --- | --- | --- | --- | --- | --- |
| Tucson GLS | 2.4l I4 (176-bhp) | M6 | FWD | 22/30/26 | 51 | $18,995 |
| Tucson GLS | 2.4l I4 (176-bhp) | A6 | FWD | 23/31/27 | 51 | $19,995 |
| Tucson GLS Popular | 2.4l I4 (176-bhp) | A6 | FWD | 23/31/27 | 51 | $21,695 |
| Tucson GLS Popular | 2.4l I4 (176-bhp) | A6 | AWD | 21/28/24 | 51 | $23,195 |
| Tucson GLS Navigation | 2.4l I4 (176-bhp) | A6 | FWD | 23/31/27 | 51 | $23,695 |
| Tucson Limited | 2.4l I4 (176-bhp) | A6 | FWD | 23/31/27 | 51 | $24,345 |
| Tucson GLS Navigation | 2.4l I4 (176-bhp) | A6 | AWD | 21/28/24 | 51 | $25,195 |
| Tucson Limited | 2.4l I4 (176-bhp) | A6 | AWD | 21/28/24 | 47 | $25,845 |
| Tucson Limited Premium | 2.4l I4 (176-bhp) | A6 | FWD | 23/31/27 | 51 | $27,195 |
| Tucson Limited Premium | 2.4l I4 (176-bhp) | A6 | AWD | 21/28/24 | 47 | $28,695 |
Comparisons
Videos
Model History