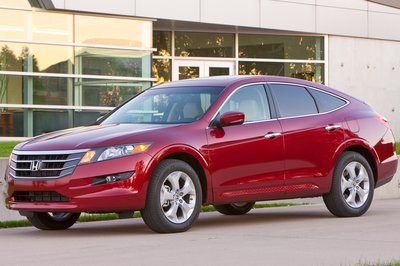 At a Glance
| | |
| --- | --- |
| Pricing | $29,675 - $36,220 |
| Drive Types | FWD, AWD |
| Engines | 3.5l V6 |
| Transmissions | A5 |
| Fuel Economy | 17-18 (city), 25-27 (highway) |
Our Ratings
Overview Information
The Accord Crosstour combines the strong practicality of the Accord sedan with the additional utility of a large flexible cargo area and all-wheel-drive. With a big trunk and one of the largest interiors in the segment, the Accord was already a very capable vehicle. Rather than make an Accord wagon, Honda's stylists added a long sloping hatch giving the Crosstour a fastback appearance. The large hatch area almost doubles the cargo capacity of the trunk even before folding down the rear seats. The Crosstour is the only way to get all-wheel-drive in an Accord. Honda offers the Crosstour in EX, and EX-L trim levels only. All-wheel-drive is only available on the EX-L trim level. All versions of the Crosstour have a V6 under the hood, unlike the sedan, which also offers a fuel-efficient four cylinder. The only downside is that Honda priced the AWD Crosstour like an SUV with a sticker price of around $35,000.
What Changed:
Honda adds a five-door variant of the Accord called the Crosstour. The Crosstour shares the general proportions of the Accord replacing the trunk with an angled hatchback. Power is provided by the 3.5L V6 found in the Accord. The Crosstour also wears a more substantial grille and offers AWD.
Official Word:
The Honda Accord Crosstour combines the sophisticated refinement of a premium sedan with versatile aspects from an SUV to create an entirely distinct concept within the Crossover Utility Vehicle (CUV) segment. Leveraging the many benefits of a car-based design, the Accord Crosstour starts with the top-level refinement of the Accord V-6 Sedan and further expands utility with a sleek-yet-functional profile for increased cargo space. Taken in its entirety, the Accord Crosstour is designed to fulfill multiple...Read.
| Model/Trim/Package | Engine | | | MPG | VjI | Base Price |
| --- | --- | --- | --- | --- | --- | --- |
| Accord Crosstour EX | 3.5l V6 (271-bhp) | A5 | FWD | 18/27/22 | 50 | $29,675 |
| Accord Crosstour EX-L | 3.5l V6 (271-bhp) | A5 | FWD | 18/27/22 | 53 | $32,570 |
| Accord Crosstour EX-L | 3.5l V6 (271-bhp) | A5 | AWD | 17/25/21 | 53 | $34,020 |
| Accord Crosstour EX-L Navi | 3.5l V6 (271-bhp) | A5 | FWD | 18/27/22 | 53 | $34,770 |
| Accord Crosstour EX-L Navi | 3.5l V6 (271-bhp) | A5 | AWD | 17/25/21 | 53 | $36,220 |
Comparisons
Reviews
Videos
Model History