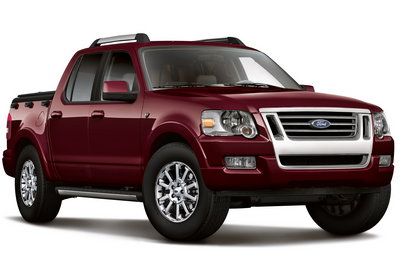 At a Glance
| | |
| --- | --- |
| Pricing | $27,810 - $39,830 |
| Drive Types | RWD, AWD |
| Engines | 4.0l V6, 4.6l V8 |
| Transmissions | A5, A6 |
| Fuel Economy | 13-15 (city), 19-21 (highway) |
Overview Information
Ford deserves credit for creating one of the more successful SUT vehicles. Based on the Explorer SUV, the Sport Trac differs from the rear doors back with the inclusion of a 4.5-foot composite bed. The bed includes 3 storage compartments for added utility. Sport Trac is offered with both V6 and V8 engines in 4x2 or 4x4 configurations. An independent rear suspension is a notable improvement over traditional truck-based offerings. An Adrenalin appearance package adds 20-inch wheels/tires and more aggressively styled body trim.
What Changed:
Trailer sway control is standard.
Official Word:
Sport Trac is the unrestricted utility vehicle that delivers rugged styling, capable power and performance along with a versatile cargo area to take customers where they want to go. For 2010, Sport Trac helps owners get to their destinations using a next-generation navigation system with SIRIUS Travel Link, which gives drivers and passengers access to up-to-the-minute information and entertainment including coast-to-coast coverage (48 contiguous states and the District of Columbia) of real-time traffic (in select markets)...Read.
| Model/Trim/Package | Engine | | | MPG | VjI | Base Price |
| --- | --- | --- | --- | --- | --- | --- |
| Explorer Sport Trac XLT | 4.0l V6 (210-bhp) | A5 | RWD | 14/20/17 | | $27,810 |
| Explorer Sport Trac XLT | 4.0l V6 (210-bhp) | A5 | AWD | 13/19/16 | | $30,335 |
| Explorer Sport Trac Limited | 4.0l V6 (210-bhp) | A5 | RWD | 14/20/17 | | $32,665 |
| Explorer Sport Trac Limited | 4.0l V6 (210-bhp) | A5 | AWD | 13/19/16 | | $35,190 |
| Explorer Sport Trac Limited | 4.6l V8 (292-bhp) | A6 | RWD | 15/21/18 | | $35,310 |
| Explorer Sport Trac Limited | 4.6l V8 (292-bhp) | A6 | AWD | 14/19/16 | | $37,835 |
| Explorer Sport Trac Limited Adrenalin | 4.0l V6 (210-bhp) | A5 | RWD | 14/20/17 | | $35,995 |
| Explorer Sport Trac Limited Adrenalin | 4.6l V8 (292-bhp) | A6 | RWD | 15/21/18 | | $37,305 |
| Explorer Sport Trac Limited Adrenalin | 4.0l V6 (210-bhp) | A5 | AWD | 13/19/16 | | $38,520 |
| Explorer Sport Trac Limited Adrenalin | 4.6l V8 (292-bhp) | A6 | AWD | 14/19/16 | | $39,830 |
Comparisons
Reviews
Videos
Model History