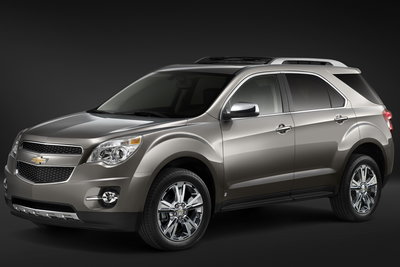 At a Glance
| | |
| --- | --- |
| Pricing | $22,440 - $31,545 |
| Drive Types | FWD, AWD |
| Engines | 2.4l I4, 3.0l V6 |
| Transmissions | A6 |
| Fuel Economy | 17-21 (city), 24-30 (highway) |
Overview Information
This popular midsize SUV is designed for car-like handling. An all-independent suspension ensures good ride and handling. The base powertrain is a 2.4L four-cylinder, allowing FWD models to turn in respectable EPA rating of 21/30 (city/highway). A small-displacement 3.0L V6 is also available.
What Changed:
Chevy restyled the Equinox for the 2010 model year. The updated model is roughly the same size, but features new exterior and interior designs. A 2.4L four-cylinder becomes the new base engine, but the output is very close to that of last year's 3.4L V6. The four cylinder pays dividends with a dramatically improved fuel economy rating of 21/30 for FWD four-cylinder models. An optional 3.0L V6 offers 255-bhp and improved fuel economy
Official Word:
Chevrolet unveiled the all-new 2010 Equinox, a compact crossover that blends distinctive design with outstanding efficiency. A new, 2.4L direct injection engine helps the Equinox deliver expected best-in-segment estimated highway fuel economy of 30 mpg (EPA certification pending) - a 25-percent improvement over the previous model. Chevrolet expects nearly two-thirds of customers will choose the efficient, 2.4L engine. The new Equinox draws its exterior design inspiration from the Chevrolet Malibu sedan and Traverse crossover; and like...Read.
| Model/Trim/Package | Engine | | | MPG | VjI | Base Price |
| --- | --- | --- | --- | --- | --- | --- |
| Equinox LS | 2.4l I4 (182-bhp) | A6 | FWD | 21/30/25 | | $22,440 |
| Equinox LS | 2.4l I4 (182-bhp) | A6 | AWD | 20/27/23 | | $24,190 |
| Equinox 1LT | 2.4l I4 (182-bhp) | A6 | FWD | 21/30/25 | | $23,360 |
| Equinox 1LT | 2.4l I4 (182-bhp) | A6 | AWD | 20/27/23 | | $25,110 |
| Equinox 1LT | 3.0l V6 (255-bhp) | A6 | FWD | 18/25/21 | | $25,505 |
| Equinox 1LT | 3.0l V6 (255-bhp) | A6 | AWD | 17/24/20 | | $27,255 |
| Equinox 2LT | 2.4l I4 (182-bhp) | A6 | FWD | 21/30/25 | | $25,445 |
| Equinox 2LT | 2.4l I4 (182-bhp) | A6 | AWD | 20/27/23 | | $27,195 |
| Equinox 2LT | 3.0l V6 (255-bhp) | A6 | FWD | 18/25/21 | | $27,195 |
| Equinox 2LT | 3.0l V6 (255-bhp) | A6 | AWD | 17/24/20 | | $28,945 |
| Equinox LTZ | 2.4l I4 (182-bhp) | A6 | FWD | 21/30/25 | | $28,045 |
| Equinox LTZ | 2.4l I4 (182-bhp) | A6 | AWD | 20/27/23 | | $29,795 |
| Equinox LTZ | 3.0l V6 (255-bhp) | A6 | FWD | 18/25/21 | | $29,795 |
| Equinox LTZ | 3.0l V6 (255-bhp) | A6 | AWD | 17/24/20 | | $31,545 |
Comparisons
Videos
Model History