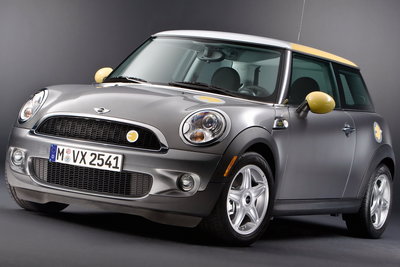 Overview Information
The Mini E is a prototype all-electric vehicle based upon the popular Mini Cooper. In place of a gas engine, the Mini E uses a 204-hp electric motor to propel the vehicle. Electricity is stored in a rechargeable lithium-ion battery pack composed of 5,088 cells holding up to 35 kWh. The Mini E recharges in about 2.5 hours with a home charger installed at the customer's house. Regenerative braking helps to extend the range while driving. BMW estimates a range of about 150 miles per charge. BMW will build 500 Mini E cars and lease them to private and corporate customers in California, New York, and New Jersey. Customers will lease the car for 1 year and return the Mini E to BMW for evaluation. The lease includes the charger and maintenance of the propulsion system.
What Changed:
The Mini E is a research electric vehicle based on the Mini Cooper. A 204-hp electric motor powers the Mini E. A large lithium-ion battery pack composed of some 5088 cells provides energy storage. The large battery pack replaces the rear seat making the Mini E a 2-seat vehicle. The Mini E features a unique paint scheme with a stylized electric plug representing the E. The gauges also show electric charge.
Official Word:
13.08.2009 Press Release Woodcliff Lake, NJ - August 13, 2009. Two months into its pioneering field trials of electric-powered automobiles, MINI USA is gathering valuable, real-world data from 450 drivers of MINI E electric-powered vehicles. These vehicles are now in daily use in metropolitan New York, New Jersey and Los Angeles, where they are being driven by private customers, municipalities, universities, public utilities, non-profit and commercial organizations. Since the field trials began in June, these experiences...Read.
Comparisons
Specifications
Features
Reviews
Videos
Model History