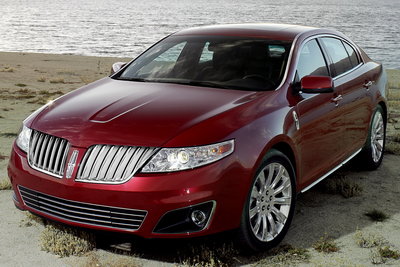 At a Glance
| | |
| --- | --- |
| Pricing | $37,665 - $45,270 |
| Drive Types | FWD, AWD |
| Engines | 3.7l V6 |
| Transmissions | A6 |
| Fuel Economy | 16-17 (city), 23-24 (highway) |
Overview Information
The MKS is a large sedan derived from the Ford Taurus as a kind spiritual successor to the Taurus-based Continentals of the 90s. With more restrained styling than other recent Lincoln products, the MKS should appeal to buyers in the relatively conservative mid-sized luxury segment. With prices starting at $38,000, the MKS competes with a wide swath of the luxury segment. In terms of size, the MKS is larger than most mid-sized luxury automobiles and roughly equivalent to the short-wheelbase models of flagship sedans like the BMW 7-Series, Lexus LS, and Audi A8. The spacious interior features a large instrument panel draped in leather and large leather seats. The standard 3.7L V6 produces over 270-bhp, which is more than enough to make the optional AWD worth considering.
What Changed:
Lincoln's new flagship the MKS will bring some much-needed new blood to the Lincoln showrooms. Built alongside the Taurus and Sable products, the MKS features a 270-hp V6 and optional AWD. The MKS will compete with a wide variety of products from the Buick Lucerne to the Lexus ES and thus offers a long-list of luxury and convenience features at a MSRP just shy of $40k
Official Word:
The all-new 2009 Lincoln MKS full-size luxury sedan debuts today, providing customers understated style, first-of-a-kind convenience features, advanced safety and one of the best values in the luxury market. Unveiled at the Greater Los Angeles International Auto Show, the new Lincoln flagship is designed to help fuel Lincoln's growth by attracting new customers. "Lincoln has reestablished itself as a quality and design leader with award-winning products like the Lincoln MKZ, MKX and Navigator," says Mark Fields,...Read.
| Model/Trim/Package | Engine | | | MPG | VjI | Base Price |
| --- | --- | --- | --- | --- | --- | --- |
| MKS | 3.7l V6 (275-bhp) | A6 | FWD | 17/24/20 | | $37,665 |
| MKS | 3.7l V6 (275-bhp) | A6 | AWD | 16/23/19 | | $39,555 |
| MKS Tech Pkg | 3.7l V6 (275-bhp) | A6 | FWD | 17/24/20 | | $38,780 |
| MKS Tech Pkg | 3.7l V6 (275-bhp) | A6 | AWD | 16/23/19 | | $40,670 |
| MKS Tech + Nav Pkg | 3.7l V6 (275-bhp) | A6 | FWD | 17/24/20 | | $41,775 |
| MKS Tech + Nav Pkg | 3.7l V6 (275-bhp) | A6 | AWD | 16/23/19 | | $43,665 |
| MKS Ultimate | 3.7l V6 (275-bhp) | A6 | FWD | 17/24/20 | | $43,380 |
| MKS Ultimate | 3.7l V6 (275-bhp) | A6 | AWD | 16/23/19 | | $45,270 |
Comparisons
Reviews
Videos
Model History