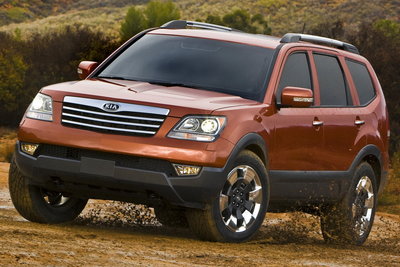 At a Glance
| | |
| --- | --- |
| Pricing | $26,245 - $39,995 |
| Drive Types | RWD, 4WD |
| Engines | 3.8l V6, 4.6l V8 |
| Transmissions | A5, A6 |
| Fuel Economy | 15-17 (city), 20-22 (highway) |
Overview Information
The new Borrego is Kia's answer to the Nissan Pathfinder. Like the Pathfinder, the mid-sized Borrego is body-on-frame and virtually identical in size. Two engines are offered: a 3.8L V6 and a 4.6L V8. The V8 is a first for Kia. Borrego can tow 5000 pounds with the V6, and up to 7500 pounds with the V8. Three rows of seating are standard providing seating for seven passengers. The second row slides fore/aft to negotiate legroom. Notable features include a 600-watt Infinity audio system, a DVD navigation system and a backup camera.
What Changed:
The new mid-sized Borrego is a body-on-frame SUV with V6 and optional V8 power capable of towing up to 7500 pounds. The 4.6L V8 is the first V8 for Kia. Three rows of seats accommodate up to seven passengers.
Official Word:
Kia Motors America (KMA) continues to broaden its product line-up with the arrival of the all-new seven-passenger Borrego midsize SUV. Proving you don't have to sacrifice sophistication, convenience, quality or size for impressive value, Borrego enters the North American market offering unmatched power capabilities and luxury at an unbeatable price. "Kia is proud to deliver a stylish and amenity-filled SUV to consumers who are passionate about what they drive," said Byung Mo Ahn, group president and...Read.
| Model/Trim/Package | Engine | | | MPG | VjI | Base Price |
| --- | --- | --- | --- | --- | --- | --- |
| Borrego LX | 3.8l V6 (276-bhp) | A5 | RWD | 17/21/19 | | $26,245 |
| Borrego LX | 3.8l V6 (276-bhp) | A5 | 4WD | 16/21/18 | | $28,295 |
| Borrego LX | 4.6l V8 (337-bhp) | A6 | 4WD | 15/20/17 | | $30,995 |
| Borrego LX Convenience | 3.8l V6 (276-bhp) | A5 | RWD | 17/21/19 | | $27,445 |
| Borrego LX Convenience | 3.8l V6 (276-bhp) | A5 | 4WD | 16/21/18 | | $29,495 |
| Borrego LX Convenience | 4.6l V8 (337-bhp) | A6 | 4WD | 15/20/17 | | $32,195 |
| Borrego EX | 3.8l V6 (276-bhp) | A5 | RWD | 17/21/19 | | $27,995 |
| Borrego EX | 3.8l V6 (276-bhp) | A5 | 4WD | 16/21/18 | | $29,995 |
| Borrego EX | 4.6l V8 (337-bhp) | A6 | RWD | 15/22/18 | | $30,995 |
| Borrego EX | 4.6l V8 (337-bhp) | A6 | 4WD | 15/20/17 | | $32,995 |
| Borrego EX Luxury | 3.8l V6 (276-bhp) | A5 | RWD | 17/21/19 | | $29,495 |
| Borrego EX Luxury | 3.8l V6 (276-bhp) | A5 | 4WD | 16/21/18 | | $31,495 |
| Borrego EX Luxury | 4.6l V8 (337-bhp) | A6 | RWD | 15/22/18 | | $32,495 |
| Borrego EX Luxury | 4.6l V8 (337-bhp) | A6 | 4WD | 15/20/17 | | $34,495 |
| Borrego EX Premium | 3.8l V6 (276-bhp) | A5 | RWD | 17/21/19 | | $31,295 |
| Borrego EX Premium | 3.8l V6 (276-bhp) | A5 | 4WD | 16/21/18 | | $33,295 |
| Borrego EX Premium | 4.6l V8 (337-bhp) | A6 | RWD | 15/22/18 | | $34,295 |
| Borrego EX Premium | 4.6l V8 (337-bhp) | A6 | 4WD | 15/20/17 | | $36,295 |
| Borrego Limited | 4.6l V8 (337-bhp) | A6 | RWD | 15/22/18 | | $37,995 |
| Borrego Limited | 4.6l V8 (337-bhp) | A6 | 4WD | 15/20/17 | | $39,995 |
Comparisons
Reviews
Videos
Model History