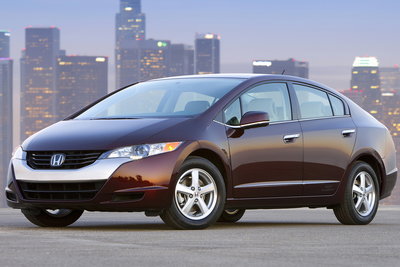 Overview Information
The FCX Clarity showcases Honda's progress with fuel cell technology. The FCX Clarity differs from prior fuel cell cars in that it is ready for the roads today. Honda has carefully chosen a few hundred customers in the U.S. and Japan to lease the FCX Clarity for more real world testing and publicity.
What Changed:
The FCX Clarity highlights Honda's progress with Hydrogen powered fuel cell vehicles. The second generation FCX has grown in size from a small hatchback to a large stylish sedan suitable for family use. Improvements to the fuel cell technology have increased the operating efficiency of the model.
Official Word:
Honda today unveiled the FCX Clarity fuel cell vehicle at the Los Angeles Auto Show, announcing plans to begin limited retail marketing of the vehicle in summer 2008. The FCX Clarity is a next-generation, zero-emissions, hydrogen-powered fuel cell vehicle based on the entirely-new Honda V Flow fuel cell platform, and powered by the highly compact, efficient and powerful Honda V Flow fuel cell stack. Featuring tremendous improvements to driving range, power, weight and efficiency - and...Read.
| Model/Trim/Package | Engine | | | MPG | VjI | Base Price |
| --- | --- | --- | --- | --- | --- | --- |
| FCX Clarity | (134-bhp) | | FWD | | | TBD |
Comparisons
Reviews
Videos
Model History