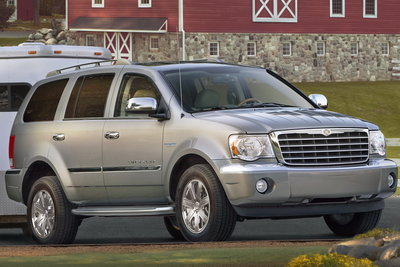 At a Glance
| | |
| --- | --- |
| Pricing | $34,730 - $45,270 |
| Drive Types | RWD, 4WD |
| Engines | 4.7l V8, 5.7l V8, 5.7l V8 HEV |
| Transmissions | A4, A5 |
| Fuel Economy | 13-19 (city), 18-20 (highway) |
Overview Information
Chrysler gets a mid-size SUV based the Dodge Durango. Like the Durango, the Aspen can seat up to 8 in 3 rows of seating. Two V8 engines are offered, a 4.7L V8 and a 5.7L HEMI (R) V8. A 5-speed automatic is standard. Both RWD and 4WD versions are offered. In 2009, a hybrid system joins the lineup pairing the 5.7L V8 with a version of the two-mode hybrid system found in some GM vehicles.
What Changed:
A two-mode hybrid version joins the lineup for 2009. The Aspen Hemi Hybrid pairs the 5.7L V8 with the two-mode hybrid system found in GM vehicles. The hybrid has an estimated fuel economy of 19 city/20 highway. Non hybrid models benefit from updates to the 5.7L V8. The updated Hemi increases power and fuel economy.
Official Word:
With the introduction of the new 2009 Chrysler Aspen HEMI(R) Hybrid and 2009 Dodge Durango HEMI Hybrid, Chrysler LLC delivers two hybrid-electric vehicles that combine fuel-efficient advanced-hybrid technology with full-size sport-utility vehicle (SUV) performance and capability. "The new 2009 Chrysler Aspen and Dodge Durango HEMI Hybrid vehicles will offer our customers the sought-after blend of performance, utility, capability and vastly improved fuel economy -- all in one package," said Frank Klegon, Executive Vice President -- Product...Read.
| Model/Trim/Package | Engine | | | MPG | VjI | Base Price |
| --- | --- | --- | --- | --- | --- | --- |
| Aspen Limited E Package | 4.7l V8 (303-bhp) | A5 | RWD | 14/18/16 | | $34,730 |
| Aspen Limited E Package | 5.7l V8 (376-bhp) | A5 | RWD | 14/20/17 | | $35,525 |
| Aspen Limited E Package | 4.7l V8 (303-bhp) | A5 | 4WD | 13/18/15 | | $37,115 |
| Aspen Limited E Package | 5.7l V8 (376-bhp) | A5 | 4WD | 13/19/16 | | $38,105 |
| Aspen Limited J Package | 5.7l V8 (376-bhp) | A5 | RWD | 14/20/17 | | $38,530 |
| Aspen Limited J Package | 5.7l V8 (376-bhp) | A5 | 4WD | 13/19/16 | | $41,110 |
| Aspen Limited HEV | 5.7l V8 HEV (345-bhp) | A4 | 4WD | 19/20/19 | | $45,270 |
Comparisons
Reviews
Videos
Model History