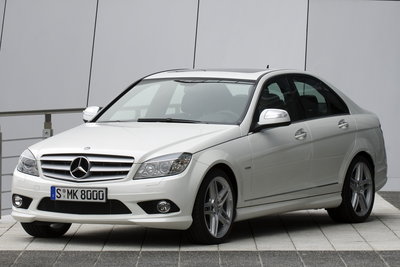 At a Glance
| | |
| --- | --- |
| Pricing | $31,600 - $53,800 |
| Drive Types | RWD, AWD |
| Engines | 3.0l V6, 3.5l V6, 6.2l V8 |
| Transmissions | A7, M6 |
| Fuel Economy | 12-18 (city), 19-26 (highway) |
Overview Information
The compact C-Class sedans range from the entry-level C300 to the pricier C350 models. With styling that is clearly Mercedes-Benz, the C-Class is attractive in an understated way. Even though the C-Class is a compact sedan, it has features and options that are common in larger luxury sedans.
What Changed:
All-new C-Class has grown in length and width. Mercedes offers a choice of Sport and Luxury models in both RWD and AWD. The range spans from the entry-level C300 all they way up to the limited production C63 AMG sedan.
Official Word:
Safety, comfort, agility: these are the outstanding attributes of the new C-Class. In late summer 2007, Mercedes-Benz will continue its successful strategy and offer two C-Class models in the U.S, a Luxury Sedan and a Sport Sedan. All model variants share the latest, state-of-the-art technology. The new C-Class is larger in virtually every dimension over its predecessor. Interior space has increased in the areas of rear legroom, front and rear hip room as well as front...Read.
| Model/Trim/Package | Engine | | | MPG | VjI | Base Price |
| --- | --- | --- | --- | --- | --- | --- |
| C300 Sport | 3.0l V6 (228-bhp) | M6 | RWD | 18/26/22 | | $31,600 |
| C300 Sport | 3.0l V6 (228-bhp) | A7 | RWD | 18/25/21 | | $33,040 |
| C300 4MATIC Sport | 3.0l V6 (228-bhp) | A7 | AWD | 17/25/21 | | $34,840 |
| C300 Luxury | 3.0l V6 (228-bhp) | A7 | RWD | 18/25/21 | | $33,300 |
| C300 4MATIC Luxury | 3.0l V6 (228-bhp) | A7 | AWD | 17/25/21 | | $35,100 |
| C350 Sport | 3.5l V6 (268-bhp) | A7 | RWD | 17/25/21 | | $36,900 |
| C63 AMG | 6.2l V8 (451-bhp) | A7 | RWD | 12/19/15 | | $53,800 |
Comparisons
Reviews
Videos
Model History