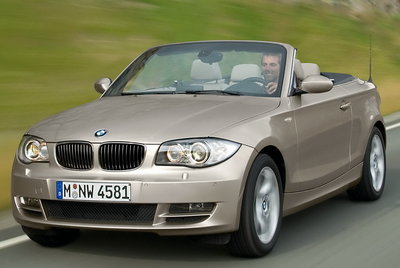 At a Glance
| | |
| --- | --- |
| Pricing | $33,100 - $40,375 |
| Drive Types | RWD |
| Engines | 3.0l I6 |
| Transmissions | A6, M6 |
| Fuel Economy | 17-18 (city), 26-28 (highway) |
Our Ratings
Overview Information
Each successive generation of BMW's iconic 3-Series has grown in size and price, leaving the door open for a new entry-level model. BMW has introduced the 1-Series coupe and convertible to fill that opening. Compared to the 3-Series the 1-Series is about 9 inches shorter, 2 inches narrower and a couple hundred pounds lighter. The good news is that the same two six cylinder engines power the smaller car. A 230-bhp inline-six resides in the 128i, whereas a 300-bhp turbocharged version powers the 135i. A smaller car with the same power could make the choice between the two tough for prospective BMW buyers.
What Changed:
The BMW 1-Series is an entry-level product for the BMW brand. The 1-Series convertible is about 9 inches shorter and 2 inches narrower than the 3-Series convertible, however powertrain options are the same. BMW 128i models are equipped with a 230hp, inline-six and 135i models are equipped with a 300 hp, twin-turbocharged inline-six. The 1-Series convertible features a power-operated soft top.
Official Word:
For those whose definition of pure driving pleasure includes wind in the face and sunshine above, the new BMW 1 Series Convertible follows the tradition established by the iconic BMW 2002 sport sedan. The essence of such driving purity - a responsive six-cylinder engine positioned within a rear-drive chassis to provide balanced, sporty dynamics - is at the heart of this compact four-place convertible. The 128i Convertible, which joins the new 1 Series Coupe going on...Read.
| Model/Trim/Package | Engine | | | MPG | VjI | Base Price |
| --- | --- | --- | --- | --- | --- | --- |
| 128i | 3.0l I6 (230-bhp) | M6 | RWD | 18/28/22 | 53 | $33,100 |
| 128i | 3.0l I6 (230-bhp) | A6 | RWD | 18/27/22 | 53 | $34,375 |
| 135i | 3.0l I6 (300-bhp) | M6 | RWD | 17/26/21 | 62 | $39,100 |
| 135i | 3.0l I6 (300-bhp) | A6 | RWD | 17/26/21 | 62 | $40,375 |
Comparisons
Reviews
Videos
Model History