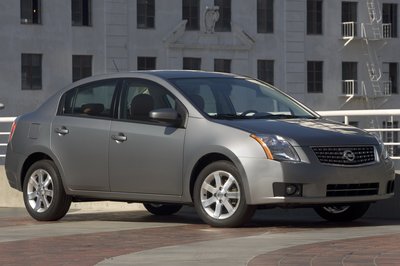 At a Glance
| | |
| --- | --- |
| Pricing | $14,750 - $19,900 |
| Drive Types | FWD |
| Engines | 2.0l I4, 2.5l I4 |
| Transmissions | CVT, M6 |
| Fuel Economy | 28-29 (city), 34-36 (highway) |
Overview Information
Nissan has waited a long time to do a complete update to the Sentra, and the wait was worth it. The new Sentra looks like a mini-Maxima, as it moves upscale to the premium compact segment. Leather seats are available for the first time. An available CVT automatic should provide improved fuel economy.
What Changed:
Sentra is all-new for 2007. The new model rides on an all new "C" segment chassis. The new Sentra is about 6 inches longer in wheelbase resulting in a roomier interior cabin. A 2.0L 4-cylinder rated at 140 hp and 147 lb-ft of torque is the standard engine. A six-speed manual transmission is standard. A CVT transmission is offered in lieu of a traditional automatic.
Official Word:
When Nissan first launched the Sentra SE-R in 1991, it helped establish the concept of a "sport compact" car. With a high performance 4-cylinder engine stuffed into a compact body, the original SE-R offered sports car-like performance for buyers on a budget. Enthusiasts and the media recognized this unique combination of performance and value and the Sentra SE-R became an instant hit - and has maintained a loyal following through two successive generations of SE-R. The...Read.
| Model/Trim/Package | Engine | | | MPG | VjI | Base Price |
| --- | --- | --- | --- | --- | --- | --- |
| Sentra 2.0 | 2.0l I4 (140-bhp) | M6 | FWD | 28/34/31 | | $14,750 |
| Sentra 2.0 | 2.0l I4 (140-bhp) | CVT | FWD | 29/36/32 | | $15,550 |
| Sentra 2.0 S | 2.0l I4 (140-bhp) | M6 | FWD | 28/34/31 | | $15,650 |
| Sentra 2.0 S | 2.0l I4 (140-bhp) | CVT | FWD | 29/36/32 | | $16,450 |
| Sentra 2.0 SL | 2.0l I4 (140-bhp) | CVT | FWD | 29/36/32 | | $18,400 |
| Sentra SE-R | 2.5l I4 (177-bhp) | CVT | FWD | 28/34/31 | | $19,400 |
| Sentra SE-R Spec V | 2.5l I4 (200-bhp) | M6 | FWD | 28/34/31 | | $19,900 |
Comparisons
Videos
Model History