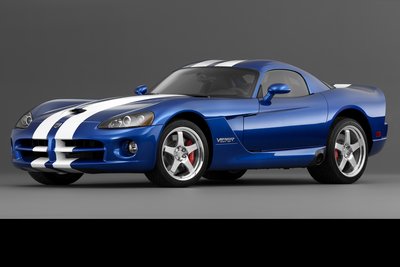 At a Glance
| | |
| --- | --- |
| Pricing | $83,145 |
| Drive Types | RWD |
| Engines | 8.3l V10 |
| Transmissions | M6 |
Overview Information
The hand-built Viper coupe is a thing of beauty. Although there are other high performance offerings running around, a Viper is guaranteed to turn heads. Those heads will be turning fast as the Viper coupe makes good use of its vaunted 500/500/500 engine: 500 cubic inches, 500 horsepower, and 500 lb-ft of torque. Dodge claims sub-4 second 0-60 times, and a 0-100-0 run in the low 12 second range. The fixed roof in the coupe results in a stiffer car and the improved aerodynamics create more downforce. If you need help rationalizing, consider that the coupe has a larger trunk and "double bubble" roofline faciliatates wearing a helmet.
What Changed:
Coupe version of the Viper re-appears after a 3 model-year hiatus. The coupe shares hood, front fender and doors with the convertible. The coupe adds a "double bubble" roof that facilitates driving with helmets.
Official Word:
"Demand for a Dodge Viper Coupe started the day we introduced the Dodge Viper SRT10 Convertible for 2003. The all-new 2006 Dodge Viper SRT10 Coupe is a natural evolution of the heritage of the Dodge Viper, and gives enthusiasts exactly what they're looking for in the ultimate American sports car. -- Dan Knott, Director, Street and Racing Technology (SRT), Chrysler Group.
| Model/Trim/Package | Engine | | | MPG | VjI | Base Price |
| --- | --- | --- | --- | --- | --- | --- |
| Viper Coupe | 8.3l V10 (500-bhp) | M6 | RWD | | | $83,145 |
Comparisons
Reviews
Press Releases
Videos
Model History